NewTrendMag.org News # 1315

[ Click on NEWS for back issues ][ OUR BOOKS ][ Previous Issue ]



Mohurram 4,1431/ December 21, 2009, # 59

---

Surprise! Scroll down to Saddam TV. Remember those who rejoiced on that Eid.

---

Dr. Ismail Zayid's personal story helps explain the deep agony of the Palestinian people and the shameless terrorism which Israel gets away with. Scroll way down for this narrative from a distinguished Canadian whom the editor of NT had the honor of knowing as a reliable friend.

---

See 2 items on "Our America" below ref. the shock waves among Americans caused by President Obama's very cosy relationship with the very tiny Jewish minority in this country.

---

Picture of the Year: The new generation of Islamic "militants."

Knoxville, Tennessee: Jamaat al-Muslimeen activist Br. Yusuf Irelandi's step Children, 4 and 18 months, passing out brochures calling for the boycott of businesses which support Israel, such as Coca Cola, Starbucks, Nestle and Mcdonalds. This was during the Israeli assault on Gaza.

---

Pakistan is changing. The High Court has blocked the extradition of five US Muslims who are wanted by the FBI at the behest of collaborators known as CAIR and Bray. Please thank Br. Khalid Khawaja. American infiltrators in Islamabad are being harrassed. Behnd the changes is the huge, peaceful but uncompromising movement led by Jamaate Islami in EVERY Pakistani city. Syed Munawar Hasan, ameer of JI, is focusing on END to US intervention. He is supported by active leaders like Sirajul Haq in Frontier, Muhammad Mehnati in Karachi and Liaqat Baluch in Punjab. National level organizations like Islami Jamiate Talaba and Jamiate Talaba Arabia are supporting the peaceful revolution along with large women's groups. Scroll way down to new photos and report on latest mass rally in Rawalpindi. [Some photos in our last issue did not appear on some readers' computers. They are permanently posted on New Trend's Web Site.]

---

Obituary by Kaukab Siddique
Mourning Grand Ayatollah Hossein Ali Montazeri

On December 19, 2009 Grand Ayatollah Montazeri passed away at the age of 87. Very large crowds attended his funeral on December 21.
He was the standard bearer of Islamic revolution, a man of God who taught decency, honesty, justice, equality and global Islamic unity. I met him at his seminary in the blessed city of Qum at the height of the Islamic vistory in Iran and could never forget the power of his sprituality.

In 1985 Iran's Guardian Council voted him to be the successor to Imam Khomeini, rahmatullah alaih. However intrigues and conspiracies within the Iranian upper echelons did not allow him to succeed. One terrible consequence was that the Iraq-Iran war dragged on with catastrophic results for both countries and with great pleasure for the enemies of Islam. It seems that Iran had been infiltrated by agents of imperialism who convinced Imam Khomeini that Iraqi Shi'as would rise up to support Iranian troops as they advanced into Iraq. Instead, Iraqi Shias, fired up by nationalism, stood firm and thousands of Iranian youths were slaughtered as they advanced on Basra.

In the present circumstances, Iran should clean up its corruption at the lower levels which has also led to the crackdown on the genuine Islamic opposition. The result is that the fake opposition fed by Iranian Americans is taking advantage of the situation. Iran has committed some atrocities against opponents though it had started with opposing demonstrations with demonstrations. Also, in Baluchistan Iran should face the fact that a genuine armed opposition is coming from the Jihad group Jundullah. Arbitrary executions and unproven claims that they are American agents will not solve the problem.

Iran should realize that Israel is very influentiual with Obama and could do serious damage if national disunity and police methods continue. Get united! When you can talk with Americans why not with the opposition and with the Jihad forces? Why are you holding Shaykh Osama's son? A quick release could gain you the support of Jihad forces globally.

My condolences go to the family of Ayatollah Montazeri and the people of Iran. May Allah accept his work for Islam and grant him al-Jannah in the company of Imam Husayn, r.a.

---

New Trend's Choices for the year ending December 31, 2009
Top Islamic Leadership of US Muslims Working for Peaceful Change through non-Violent Resistance
Inclusion was based on national and international influence, Islamic authenticity and independence.

1. Imam Jamil Abdullah al-Amin [Atlanta] [Imprisoned]. Revolutionary teachings.

2. Imam Musa [Washington, DC] Da'wa at the grassroots, preaching, fearlessness.

3. Imam Luqman Abdullah [Detroit, MI] [Shaheed]. Grassroots da'wa,Masjid Organization and defiance of taghoot.

4. Imam Badi Ali [Greensboro, NC]. Palestine, Iraq, Pakistan, Community work, women's rights.

5. Sis. Anisa Abdel Fattah [Columbus, OH]. Palestine, women's rights, organization.

6. Dr. Abdulalim Shabazz DrAAS.info [Grambling, Louisiana]. Higher learning, anti-racism, Africa orientation.

7. Sis. Ashira Na'im [Baltimore, MD]. Community work, Africa, women's rights, da'wah.

8. Imam Ali Siddiqui [Santa Rosa, California]. Genuine inter-faith work, peace movement, community work.

9. Sis. Hedayai Majeed [Atlanta, GA]. Against Domestic violence, for homeless women, organization.

10. Br. Shamim Siddiqui [Long Island, New York]. Qur'anic message, da'wah, Islamic scholarship & books.

11. Prof. Suleyman Kurter & Sis. Havva. [Milwaukee, Wisconsin]. Hispanic da'wah, literature, community, peace.

12. Dr. Omar Afzal [Ithaca, NY]. Uncompromising Sunnah Teachings on Ramadan, Eidain and crescent sighting.

13. Sis. Karima al-Amin [Atlanta, GA] . Attorney for Imam Jamil, record for speaking truth to power, community.

---

The Five American Muslims who Went to Pakistan and were Reported by CAIR

Hope for an International Lesson: A spiritual Approach to the CAIR-FBI Connection

by Sis. Abigail Anthony [The writer has volunteered to join New Trend's research team.]

Regarding the media attention about CAIR and the 5 American would-be fighters, I know the people at CAIR are scoundrels and villains (any literate person with a Qur'an and belief in it should be able to judge that), and what they did to those 5 boys is despicable and CAIR certainly deserves to be corrected and rebuked personally and publicly, but I haven't seen anything written about the boys families and the turmoil they must be going through. Those families, if they have not been filled with lies and hardened by a spirit of defiance and falsehood, are surely hurt, confused, and worried about the decision they made to trust the people at CAIR. I've made similar mistakes in years past - not on an internationally recognized scale such as this, but I've trusted people with "respectable titles" before, and I know that "hurt, confused, and worried" are not adequate words to describe the internal questioning, turmoil, and remorse you go through after you've put your trust in someone identified as a spiritual leader who ends up only hurting you by guiding you down a path that God has forbidden.

CAIR could not have had those boys best interest at heart; there is no way that any sane person would think contacting the FBI would 'help' those boys. First of all, space does not allow me to list the numerous Quranic verses that instruct Muslims to seek help only from God and from the believers/faithful (which the FBI and the U.S. Government certainly are not - and again, a literate person with a Qur'an can easily judge that); and secondly, what did CAIR hope to accomplish "for" these boys by contacting the FBI? My guess is the people of CAIR needed their daily bread - they needed their feeding of praise from the ones they look to for rewards and appreciation. But how did they convince the families that this was the best route to take? What explanation could they possibly have provided to them that convinced them the FBI would "help" them? What Quranic verse did they quote to the families to assure them this was what Allah would have them do? Or did they simply not provide verses and/or Quranic reasoning to them? And why haven't Muslims families been sufficiently educated to expect and demand Quranic proof for opinions and guidance?

What were these families feeling and thinking about their sons desire to fight alongside the mujahadeen? Did they furiously think the boys were criminals who deserved to be tracked down, detained, investigated and imprisoned? If so, why didn't the families simply contact the FBI themselves? Of course we know that most people do not have a direct telephone number to the FBI like CAIR probably has, but if the families had wanted to contact man's laws authorities, they could have easily contacted any government agency who would have gladly welcomed their phone call. But the families did not do that; what they seemed to have commendably done was to contact someone holding a spiritual leadership position presumably to seek righteous and spiritual guidance; I'm sorry they made a poor and/or uneducated choice and wish they had chosen someone trustworthy whose actions and thinking conformed to the path Allah revealed to us as being the righteous one.

And if these families were simply worried about their sons safety and well-being, or worried that their sons may be trying to participate in something Allah disapproves of, then certainly there were better choices that CAIR could have made. Why didn't CAIR call upon Allah instead of the FBI? Does CAIR claim to have consulted the Qur'an or sought guidance from Allah? If so, are we to believe that Allah guided them to the FBI? Are we to believe that Allah led them to seek assistance from the very types of characters He warns us to avoid relying on? If we believe that, then we may just as well throw out our Qur'ans because to believe that invalidates the Qur'an's validity.

How can CAIR justify their thoughts and actions using the Qur'an? Have they modified the Qur'an by highlighting some of the verses in yellow meaning "true" and highlighted other verses in green meaning "false" and highlighted other verses in orange meaning "we haven't decided if this is true or false yet"? Certainly that is a ridiculous scene, but shamefully, the actions of so many "Muslim" leaders these days indicate that's exactly what they've done to the Qur'an. These "leaders" boldly claim the prophethood of Muhammad (pbuh) but they don't obey the message as though it actually came from God; they hold sacred the Qur'an and would condemn or prosecute someone for its desecration, yet they themselves trample and ignore the very prescriptions it records; they declare there is One God, but they don't know Him. These groups miss so much and harm so many.

The fact is, is that Allah has not left us with a partially correct policy and procedure manual for living in this world. He has not left us in darkness and confusion and with a horribly complicated set of rules. Are these rules easy to obey? Not always. Are they easy to remember? Not always. But Allah is forgiving and merciful and loving when we make mistakes, but we cannot deny the accuracy of the Qur'an He left for us! And we cannot keep acting as though Allah has left us a manual that 'expired' after two or three centuries. Simply put, Allah is smarter than that; He truly planned ahead when He designed this religion, and it is miraculously applicable yesterday, today, and tomorrow.

I pray for the families who trusted CAIR. I feel sad for them; I feel as though they were tricked. I pray this leads them, and all of us, to an increased level of belief in Allah and hope it encourages us to search for the true believers whose actions will be in line with the Qur'an and the Sunna. I pray this sad event serves as a reminder to all of us to rely on Allah and His faithful servants only, as we have been instructed to do.

---

After Obama's Afghanistan Offensive Speech
War News:
Winter Slows Down Fighting in Afghanistan: Taliban have the initiative as new US Units Arrive

December 19: Three NATO troops were killed in Taliban pin prick attacks, a Polish trooper in Ghazni, a British soldier in Helmand and a US trooper in the south [no details].

December 18: AFP reports that three Afghan civilians were killed [all males] and a woman wounded in a US helicopter attack in Kandahar province. [Obama had promised to Karzai that civilians would not be killed.]

Also on Dec. 18, 800 French troops with a few US special forces and Karzai troops made an impressive sweep east of Kabul in the Sarobi area to deter Taliban increasing their grip on Kabul. At one point they came under Taliban machine gun and rpg fire and lost 5 US special forces seriously wounded. The French say that air strikes were then called in and one of the Taliban was killed and 3 wounded. The French retreated back to Kabul.

December 17: Two elite British troops and two Karzai Afghans were killed in their vehicles in the Sangin area of Helmand when they engaged two Taliban martyrdom operators who were killed in the explosions.

---

War News: Pakistan
Pakistani Defence Minister Admits, US is using Air Base in Pakistan for Afghanistan Operations

December 12: ISLAMABAD: The Shamsi airbase in Balochistan is being used by American forces for logistical purposes but the government is not satisfied with payments for the use of the facility, disclosed the defence minister.
Talking exclusively to DawnNews, Defence Minister Ahmad Mukhtar said that the US was still using the Shamsi airbase; however, the govt is not satisfied with payments for its use.
[Dawn is pro-regime Pakistani daily quite proud of the regime's links with US military. --- Editor]

---

Pakistani Defence Minister Admits, US is using Air Base in Occupation Police Force Blown up while Praying:

December 18. In Timergara, Dir, a martyrdom operator hit police officers who had just finished prayers. At least 12 were killed and 28 wounded.
Dir was occupied by General Kayani's military forces about 6 months back. Police, militia and military forces have been used to attack mosques, medressas, imams' homes and villages supporting the poorly armed Pakistani Taliban led by Maulvi Fazlullah.

Our observers say that the Taliban consider the police and military working for Kayani and the CIA as MURTADEEN and their mosques as masjide dirar which the Qur'an condemns. People in Dir, our observers say, ask whom are these police praying to when they are working for Iblis and have been attacking Islamic schools.
[New Trend says: Pakistanis should talk to each other. Kayani is not able to suppress the Pak Taliban and attacks on Islamic centers are leading to retaliation on police and military who pray. Pakistani generals in Rawalpindi suffered a similar fate when they were praying after killing Ulama and attacking mosques and medressas in Hangu and across the northern areas. Let's pray for peace and urge Kayani to stop military operations.]
[New Trend adds: We urge Kayani to stop extra-judicial killings of Pak Taliban supporters. These are crimes against humanity and will lead Kayani and his air force chief to the gallows.]

---

Multiple New US Air Attacks on Pakistan. [The language is AFP's.]

MIRANSHAH: Ten suspected militants were killed Thursday in the second US missile strike in a day targeting insurgents in Pakistan's tribal North Waziristan district, security officials said.
'Five US drones fired at least seven missiles, targeting several houses in the Ambarshaga area in North Waziristan and killing more than 10 militants,' a senior security official in the area told AFP.
Another security official confirmed the strike and said the death toll may rise.
Earlier Thursday two militants were killed in a similar strike on a house near Miranshah, the main town in the North Waziristan. -AFP

---

Islamic Woman, her 2 sons, two daughters and nephew Abducted by Government Agents

December 17, 2009: In Karachi, an Islamic woman, Talat Ilyas, her two sons, two daughters and three year old nephew were allegedly abducted by government agents, probably gangsters from MQM. The regime is concerned that large numbers of women have joined Jamaate Islami's mass rallies against the military operations in the northern areas. Jamaate Islami is a peaceful movement but government agents are trying to provoke the movement.

Photo below shows Islamic women protesting against the abductions. Inset shows Karachi JI Ameer Muhammad Hussain Mehnati , with fist raised, and Hafiz Naeem on his right, addressing the large protest rally.

---

Our America:The irresistible Mark Glenn Does it Again!
Americans Unhappy with Obama's Hannukah Party for 500 Jews: Recession is Hurting the people

President Obama is increasingly seen as a Jew by many Americans, not as a 'moozlim' as Fox News would have us believe. The feeling that America is being run by extremist Jews like Rahm Emmanuel [ the Israeli terrorist who lighted the menorah], Obama's door keeper, and Axelrod, his program director, was strengthened by the Hannukah party.

The best comment/spoof on Obama's Hannukah comes from our dear friend, a Jesus [pbuh] man from Idaho, Mark Glenn. Some of the language is bad but the true followers of Jesus, pbuh, are hurting over the takeover of this great country by Israelis. Enjoy Br. Mark at his best:

http://mantiqaltayr.wordpress.com/2009/12/16/obama-slams-zioist-lobby-by-holding-huge-hanukkah-party-at-the-white-house/

---

Our America #2: With thanks to Sis. Anisa Abdel-Fattah [bangla-vision]

Obama grants Israel billions of dollars in aid + tries to Undermine Hamas.
Sat, 19 Dec 2009 11:07:08 GMT


US President Barack Obama has signed the foreign aid budget law for 2010 which includes the granting of $2.775 billion in security aid to Israel.

The Israeli Ynet news website reported that the budget signed by Obama, for the first time, also grants $500 million to the Palestinian Authority.

The aid also includes $100 million to be used by US General Keith Dayton, who is in charge of training the Palestinian security forces in the West Bank.

The aid will be handed over to the Palestinians under the condition that the American taxpayers' money will only be transferred to a Palestinian government whose members accept the conditions of the international Quartet - the United States, Russia, the European Union and the United Nations. The conditions include recognizing Israel, renouncing violence and accepting past agreements signed with the Tel Aviv regime.

The $3 billion aid is comprised of $2 billion in security aid and $1 billion in civilian aid.

The annual American security aid to Israel increased to $2.4 Billion after Israeli Prime Minister Benjamin Netanyahu took office and gradually relinquished the civilian aid.

The aid is accompanied by special additions to the Israeli military industries for the development of technologies, particularly in the missile field.

MP/MTM/DT

http://www.presstv.ir/detail.aspx?id=114132&sectionid=351020202

---

December 17, 2009
My story - Palestinian dispossession and suffering
Dr. Ismail Zayid
I was born in 1933 in the Palestinian village of Beit Nuba, where I was brought up and lived happily with family and friends.
Beit Nuba had existed for thousands of years, as historic records show, but Israeli wars of aggression and war crimes have made its recent history painful and tragic.
In May 1948, the Israeli army launched an attack to occupy the villages of Imwas, Yalu and Beit Nuba, but failed to conquer them.
Elsewhere in Palestine, Zionist terrorist gangs and the Israeli army were committing massacres against predominantly unarmed Palestinian people and conducting their long-planned campaign of ethnic cleansing.
One day out of many during that conflict left painful sights in my life.
It was on July 10, 1948, that Israeli army troops, led by Yitzhak Rabin, occupied the Palestinian cities of Lydda and Ramleh.
Rabin and his officers proceeded to drive the 50,000-60,000 civilian inhabitants of these cities away from their homes in terror as low-flying airplanes flew over their heads, shooting the occasional person and forcing them to run.
The sight of the terror-stricken, hungry and thirsty men, women and children fleeing in terror under the hot midday summer sun approximately 25 kilometres to the village of Beit Nuba, was a sight that I, a 15-year-old boy, would never forget.
The inability of the Israeli army to conquer Imwas, Yalu and Beit Nuba brought about a brutal revenge 19 years later during Israel's planned attack against its Arab neighbours on June 5, 1967.
On June 6, the three villages were occupied without a single shot being fired, and systematically dynamited and bulldozed on the direct orders of Yitzhak Rabin, then chief of staff of the Israeli army. The villagers, over 10,000, were expelled from their land.
In Beit Nuba, 18 were buried alive under the ruins of their homes because they were old or infirm and unable to move out before their homes were demolished.
One of them, Mohammad Ali Baker, was an uncle of my mother.
When our home was demolished, my uncle, who was old and arthritic, was slow to move out. The Israeli soldiers told him, while they were demolishing the western part of our home, that he would be buried alive if he did not move when they started demolishing the eastern part. He was hurriedly moved out.
The pain and suffering that my mother sustained was immense and continued to affect until her dying day.
My mother, brother, sisters and uncle were driven from our land and never allowed to return. I continue to bear that pain.
The destruction of these three villages was witnessed and described by the Israeli journalist Amos Kenan, a reserve soldier in the occupying force in Beit Nuba. He gave this account to the Israeli newspaper Ha'Olam Hazeh, which the censor prohibited from being published. It was sent to all members of the Knesset, and to the Israeli prime minister and defence minister, but no response was received.
"The unit commander told us that it had been decided to blow up three villages in our sector; they were Beit Nuba, Imwas and Yalu ... We were told to block the entrances of the villages and prevent inhabitants [from] returning .... The order was to shoot over their heads and tell them not to enter the village.
"Beit Nuba is built of fine quarry stones; some of the houses are magnificent. Every house is surrounded by an orchard, olive trees, apricots, vines and cypresses. They are well kept. Among the trees, there are carefully tended vegetable beds.
"At noon the first bulldozer arrived and pulled down the first house at the edge of the village. Within 10 minutes the house was turned into rubble. The olive trees and cypresses were all uprooted. After the destruction of three houses, the first refugee column arrived from the direction of Ramallah. We did not fire in the air. There were old people who could hardly walk, murmuring old women, mothers carrying babies, small children. The children wept and asked for water. They all carried white flags.
"We told them to go to Beit Sira. They told us they had been driven out. They had been wandering like this for four days, without food, some dying on the road. They asked to return to their village ... Some had a goat, a lamb, a donkey or a camel. A father ground wheat by hand to feed his four children ... The children cried. Some of our soldiers started crying too.
We went to fetch the Arabs some water. We stopped a car with a major, two captains and a woman ... We asked the officers why these refugees were sent from one place to another and driven out of everywhere. They told us that this was good for them; they should go. 'Moreover', said the officers, 'what do we care about the Arabs anyway?'
"We drove them out. They go on wandering like lost cattle. The weak die. Our unit was outraged. The refugees gnashed their teeth when they saw the bulldozers pull down the trees. None of us understood how Jews could behave like this. No one understood why these fellaheen [villagers] shouldn't be allowed to take blankets and some food.
"The chickens and doves were buried in the rubble. The fields were turned into wasteland in front of our eyes. The children who went crying on the road will be fedayeen in 19 years, in the next round. Thus we have lost the victory." (From Israel Imperial News, March 1968.)
Uri Avnery, then a Knesset member, described the destruction of these villages as a definite war crime in direct violation of The Fourth Geneva Convention, 1949, to which
Israel is a signatory. Article 53 of the convention states: " Any destruction by the Occupying Power of real or personal property, belonging individually or collectively to private persons, or to the state, or to other public authorities or social or cooperative organizations, is prohibited."
It is now difficult to spot the ruins and the rubble. Today, on the site of the ruins of these three villages stands the infamy called "Canada Park," built with tax-deductible Canadian dollars provided by the Canadian Jewish National Fund (JNF), a registered Canadian charity.
It was in 1973 that Bernard Bloomfield of Montreal, then President of the JNF of Canada, spearheaded a campaign among the Canadian Jewish community to raise $15 million to establish Canada Park to provide a picnic area accessible to Israelis from Jerusalem and Tel Aviv.
At the entrance, just off John Diefenbaker Parkway (opened by Diefenbaker himself in 1975), is a sign that reads: "Welcome to Canada Park in Ayalon Valley—a project of the Jewish National Fund of Canada."
The JNF, responsible for the upkeep of the park, has removed all signs of the villages and their inhabitants from the area.
It would seem that only the Canadian donors are worthy of being remembered; their names are engraved in the bronze plaques that cover an entire wall.
Interestingly, these donors are not directly informed that the park is built on the site of the demolished villages, including Imwas, the biblical village Emmaus where Jesus Christ first appeared after his Resurrection to meet with his Apostles.
The Director of the American JNF stated: "It is a delicate situation, and one cannot expect an institution [such as the Canadian JNF] which gathers money from abroad, to publicize the issue [of the demolition of these villages]." ("Canada Park: A Case Study," by Ehud Meltz and Michal Selah, Kol Hair, Aug. 31, 1984.)
The glossy guidebook, published by the JNF of Canada, has an entire page devoted to the area's history, including the biblical, Roman, Crusader and British periods, but has no mention of these villages or their destruction.
Another step in the obliteration of the villages from memory can be seen in their absence from Israeli maps.
As a new Canadian, my personal pain was compounded when I read on Dec. 4, 1978, in our local newspaper, The Halifax Herald, that Peter Herschorn, a prominent Halifax businessman and past chairman of the Atlantic branch of the JNF, was honored by the JNF for his humanitarian work and "choosing the right goodness" in his participation in the building of Canada Park.
The Lieutenant-Governor of Nova Scotia, the Premier of N.S. and the Mayor of Halifax were in attendance and offered their greetings. I was mortified that political leaders in my new country, Canada, would consider the erection of recreation centres on the site of ruins of criminally demolished peaceful villages to be a humanitarian act.
When I was invited to come to Canada to teach at Dalhousie University Medical School, I accepted with enthusiasm, as I had a vision of Canada as a country of liberal values upholding human rights and international law.
However, the story of our government, allowing our tax dollars to be used to build the infamous Canada Park, a war crime, has been a source of torment and pain for me.
Over many years, I have written repeatedly, supported by some honourable politicians like Sen. Heath Macquarrie and Mr. R.A. Corbett, MP, to successive Revenue Canada Ministers, expressing my concerns, but I received only vague unhelpful answers.
It was in the midst of this that on Oct. 21, 1991 the Canadian Broadcasting Corporation's The Fifth Estate broadcast a documentary entitled "Park with no Peace."
It deserves to be viewed and study by all:
http://video.google.ca/videoplay?docid=-2500957394773313398 In summary, I stand before you today, to express gratitude to The Canadian Museum for Human Rights for agreeing to listen to my story, which exposing the violation of my human rights as well as the pain and suffering of the Palestinian people who have been systematically expelled from their homeland, continue to live as refugees, and are denied the fundamental right of return to their homes, a right clearly stipulated in the Universal Declaration of Human Rights and repeated UN resolutions.
As Israel continues to defy international law, we witness deafening silence from countries like Canada, which claims to uphold the UN Charter and universal human rights.
To compound that, I, as a Canadian citizen, feel the pain and shame of my country's complicity in continuing to subsidize the war crime called Canada Park.

---

Dr. Ismail Zayid was born and grew up in Beit Nuba, Palestine, and went to school in Jerusalem. He received his medical education at the University of Londom and was invited in 1972 to teach at Dalhousie University Medical School, Halifax, Nova Scotia, Canada.
Retired in 1999 from his position as Professor of Pathology, Faculty of Medicine, Dalhousie University. He is the author of two books: Palestine: A Stolen Heritage and Zionism: The Myth and the Reality.

---

This takes the cake:
British Bigotry as Revealed by the Muslim News Paper

http://www.muslimnews.co.uk/paper/index.php?article=4413
UK terror witch-hunt extended to nursery schools
By Hamed Chapman
West Midlands Police are encouraging nursery school teachers and workers to monitor children in their care as potential terrorists. "If anyone working with children has a concern, we would expect them to contact us as a safeguarding measure," said Assistant Chief Constable Anil Patani in a copy of a letter obtained by The Muslim News.

---

Peaceful Revolution in Pakistan
JI Leader Syed Munawar Hasan Calls for release of Dr. Aafia Siddiqui & 250 Baluch Women.
Mass Rally in Rawalpindi.

Reporting and photos by our correspondent Umeed Khan.

Dec. 20: The Jamaat e Islami chief Syed Munawar Hasan has announced that the JI would give a call for million man march towards Islamabad if any obstructions were created in the implementation of the Supreme Court order on the NRO.

Addressing a big "Go America Go" rally at Murree road, Rawalpindi, on Sunday, he said the Supreme Court 17 member bench had taken a bold step and exposed the NRO hit faces but its order appeared to be trampled upon. Surprisingly, he said, PML(N) chief Mian Nawaz Sharif had proceeded abroad just at this juncture. Perhaps he had some more important business abroad. Apparently, he said, Mian Sahib was awaiting his turn. He was however sure that Mian Nawaz Sharif's turn would never come again.

Syed Munawar Hasan said, Mian Nawaz Sharif, Maulana Fazlur Rahman, Altaf Husain and AsfandYar Wali were equally involved in the crimes of the PPP.

The JI chief saluted the Afghans for defeating the US after the Soviet Union. He said, the sooner the US and its allies pulled out of this region, the better it would be for them. The US, he said, had attacked the Muslim world with full force as the American intellectuals realized after Russia's defeat that Islam was the only civilization that could challenge them in every field. However, the brave Afghans had foiled their designs.

He said the Black Water won't be allowed to play its role. He said the Interior Minister Rehman Malik was issuing a statement every day that there were no Black Water in this country. Is Rehman Malik on daily wages, he asked. He said the nation did not believe the minister.

Syed Munawar Hasan deplored that the rulers had completely forgotten Dr Aafia Siddiqui. How can one be at rest when a daughter of the nation was in the enemy hand, he asked.

Similarly , he said, about 250 Baloch women had been missing for years as their whereabouts were not known while the rulers were totally unconcerned.

He said that the JI's Go America Go campaign would continue till the enforcement of the Shariah in the country.

[Ed note: NRO was the ordinance issued by General Musharraf to protect corrupt politicians, like Zardari, who is now President of Pakistan. Its removal by the Supreme Court opens up the corrupt men ruling Pakistan to prosecution and prison.]


---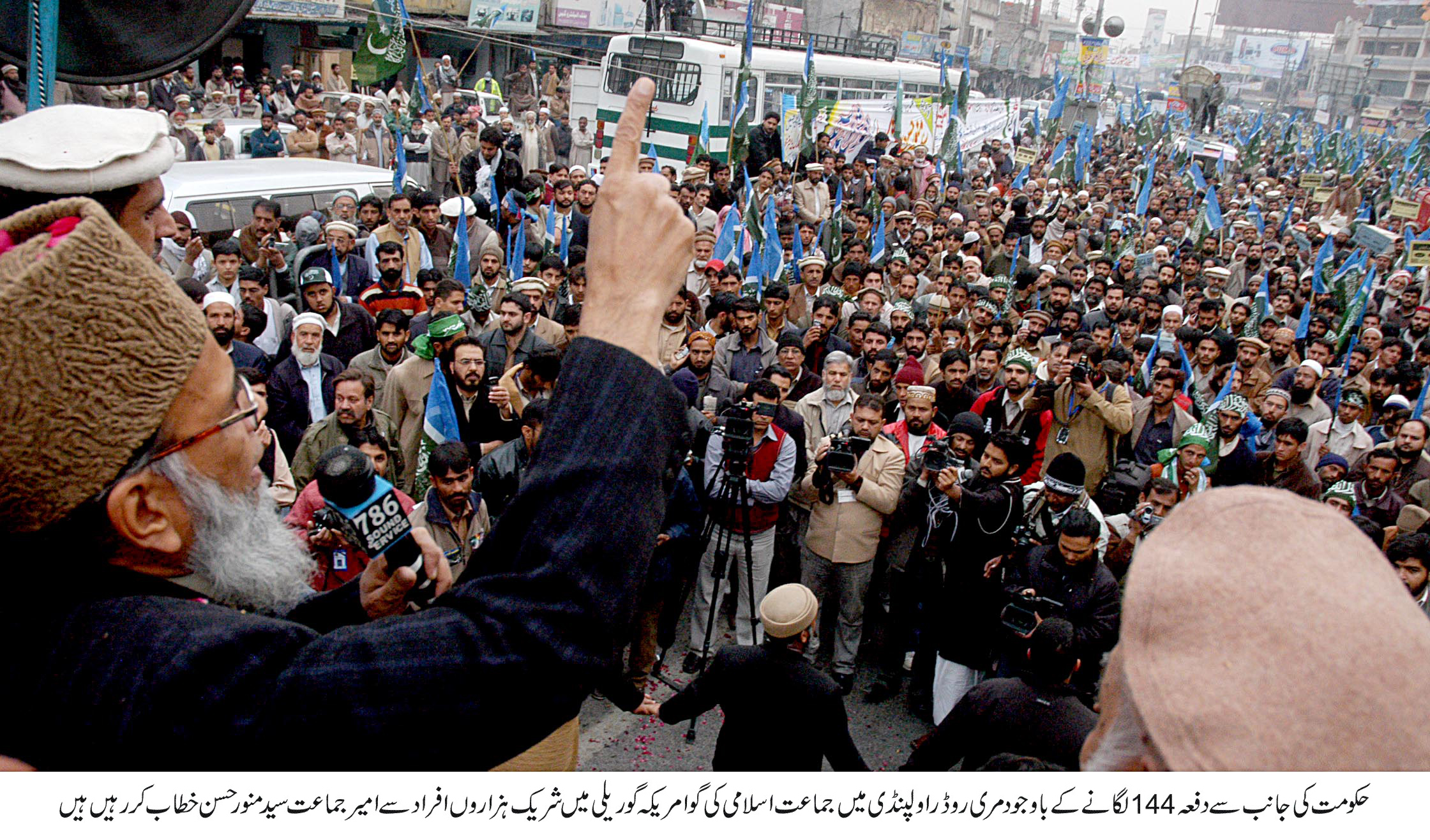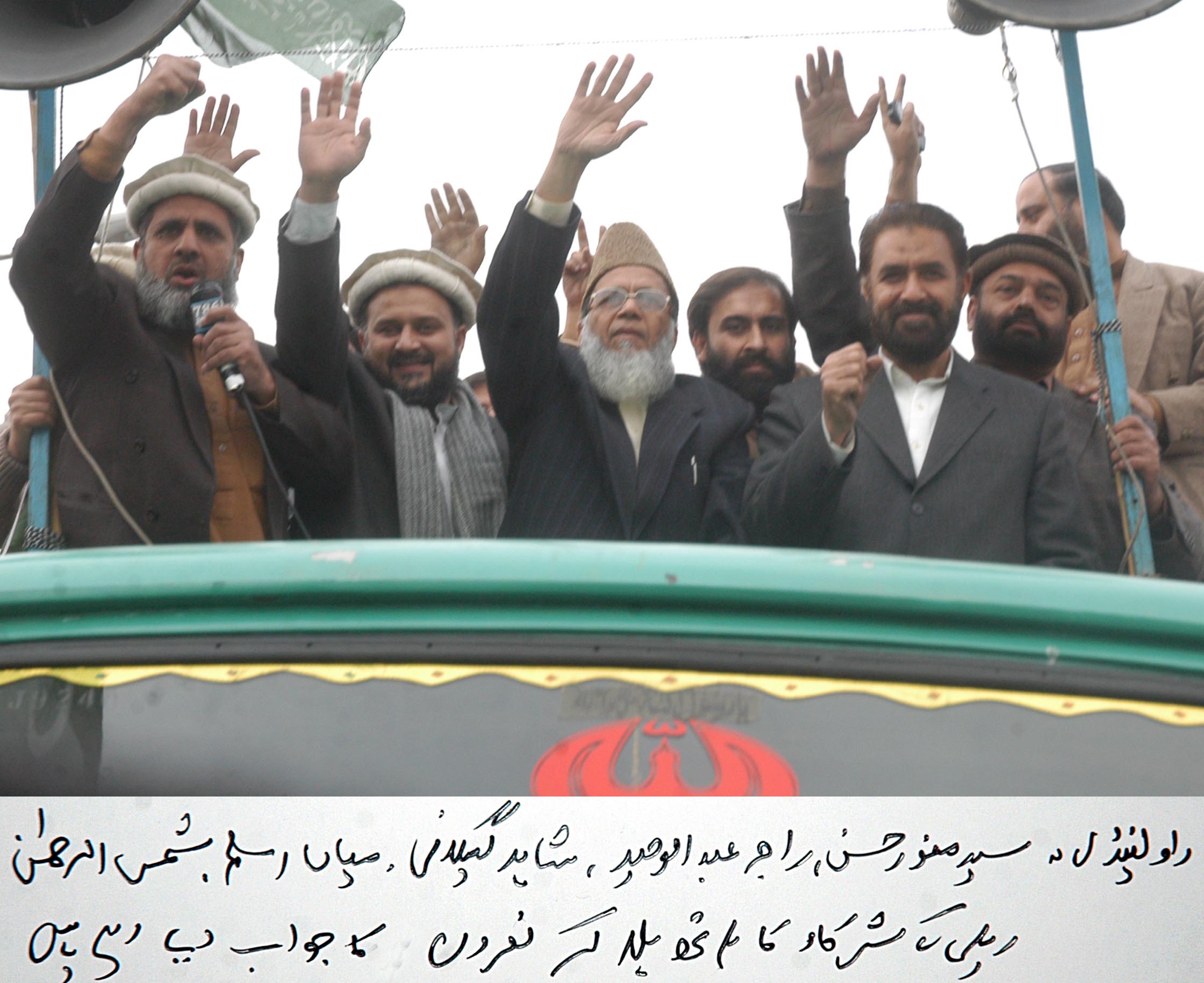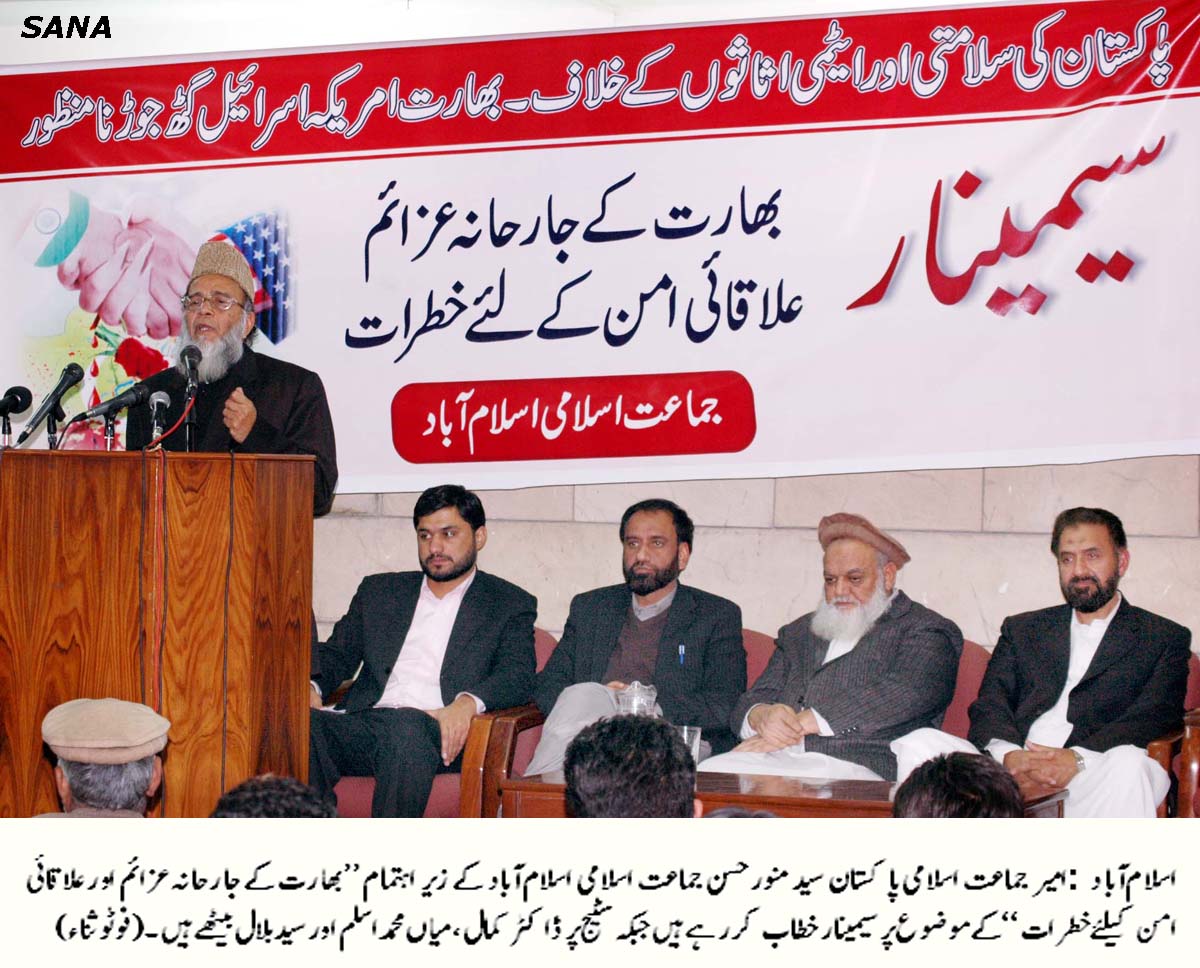 ---

Mysterious Saddam Hussein channel hits Iraq TV

Saddam Hussein is the star of a mysterious channel on satellite TV in Iraq that began broadcasting on the Islamic calendar's anniversary of his 2006 execution.

Published: 12:45AM GMT 30 Nov 2009


Photo: AP
The origins and backers of the so-called Saddam Channel remain unclear.
The Iraqi government said it suspected that Baathists, whose political party Saddam once led, were behind the broadcasts. But Mohammed Jarboua, who claimed to be chairman of the new venture, told the Associated Press that there was no Baathist link, and that the channel was for Iraqis and other Arabs who supported the late dictator.
Saddam's hanging three years ago was on the first day of Eid al-Adha, the most important holiday of the Islamic calendar. His execution - and the day it was done - remains a sore point for Saddam sympathisers still smarting over images of the defiant leader in his final moments as Shias in the death chamber shouted curses.
The Saddam Channel debuted on Friday, the first day of this year's Eid for Sunnis. The holiday started Saturday for Shias. The station's official name alternates between "Al-Lafeta" ("the banner") and "Al-Arabi" ("the Arab").
It is mostly a montage of flattering, still images of Saddam - some of him dressed in military uniform, others in a suit, even one astride a white horse. One image shows his sons Odai and Qusai smiling with their father, and another their bodies after they and Saddam's grandson, Mustafa, were killed in a July 2003 gunfight with US troops.
One prominently displayed image is that of a man burning an American flag. Another shows graves covered with Iraqi flags.
All the pictures are set against audio recordings of Saddam making speeches and reciting poetry. Patriotic songs urge listeners to "liberate our country".
A media adviser to Iraqi Prime Minister Nouri al-Maliki dismissed the station and its message, and refused to comment on whether the government will seek to shut down the channel.
[Cortesy: British Daily Telegraph.]



2009-12-23 Wed 19:22:00 cst
NewTrendMag.org