NewTrendMag.org News # 1314

[ Click on NEWS for back issues ][ OUR BOOKS ][ Previous Issue ]



Zulhijjah 27,1430/ December 15, 2009, # 58

---

US Islamic Scholar says US wants to occupy Pakistan. Scroll down to incisive article by Shamim Siddiqui along with brief history of Pakistani military.

---

History in the making:
Jamaate Islami Pakistan, led by Syed Munawar Hasan, its ameer, and other dedicated leaders, has successfully mobilized the Pakistani masses on such a scale that US infiltration and aggression are becoming difficult, if not impossible. Even the mass murderer General Kayani along with President Zardari and Prime Minister Gilani are finding it difficult to move forward with the American agenda. On December 13, Munawar Hasan, or as we call him Munawar bhai, addressed a mass gathering in Karachi's famous Nishtar Park. He spoke to adoring crowds and spiritual leaders in many other cities too, including the volatile city of Peshawar and the Pishin area of Baluchistan.
We present here Munawar Hasan's history making struggle to mobilize Pakistanis for PEACE and UNITY. Please scroll to end for a series of photos, sent by our correspondent Umeed Khan in Pakistan. The last photo is that of a mass gathering of Islamic women in Lahore. As the Zionist media have censored the entire struggle of Pakistanis, New Trend is your unique window into the real Pakistan.

---

Edited by Imam Badi Ali [Jamaat al-Muslimeen North Carolina]
New Trend Introduces
Top Ten Idiots of the World for the Year ending December 31, 2009

1. Mahmoud Abbas, Palestinian Authority leader, has successfully divided the Palestinian people, works tirelessly for the Israeli agenda, has a gang of his own connected to various forms of political and economic corruption and is imposing tyranny on a people known for their love of freedom. He has no idea that the enemies of Palestine see him as a useful idiot.

2. Ban Ki- moon, Secretary General of the United Nations, thinks he really is a force and flies around the world doing whatever the western powers want him to do. Whatever little distinction used to exist between the United States and the United Nations disappeared during his tenure. He is nothing but a servant of the oppressors but he takes himself seriously!

3. Hosni Mubarak, President of Egypt, uses arbitrary arrests, torture, rape and executions to stay in power. He is America and Israel's favorite boy, slow thinker but heavy handed. Bush used him for "rendition" of Islamic prisoners. Israel used him to stop help and relief coming to the people of Gaza during the Israeli genocide of a defenseless people. Now he is building a steel wall to permanently cut off the people of Gaza from supporters in Egypt. Meanwhile poverty and crime have become endemic in Egypt. He has no idea that he is a puppet in the hands of the worst enemies of the Egyptian people.

4. King Abdullah of Jordan defends Israel's border with the Arab world. A playboy and a clown, he cared more for his dog than for the entire population of Gaza. He flies every now and then to the White House to get his orders and is extremely popular with the corporate media who talk to him as if he really is a king. Without his extremely repressive security apparatus, he wouldn't last a day.

5. President Zardari-General Kayani-Prime Minister Gilani Pakistan's triplicate axis of evil comes as one. These three-in-one are all jumping to the orders of Washington. They had to be brought in because of the failure of General Musharraf and the murder of Benazir Bhutto. Kayani is using Pakistan's army to uproot entire populations of strongly Islamic people who are considered "terrorist supporters" by Obama. The role of Gilani and Zardari is to create the impression that a democratic government is in place and to placate the middle class which had been disturbed by Musharraf's boorish behavior.

6. President Obama was elected because the American people saw Bush as a total failure. He easily became the tool of the Right Wing and the Zionist lobby, so pro-Israel that he seems to be Jewish. He quickly forgot the African American people, fought for bad old capitalism,and tried to fool the masses with his fancy and cute speeches. He is more war oriented than Bush. The American armada is still in Iraq, Afghanistan is being flooded with massive infusions of elite US-NATO troops, Pakistan is under attack, Somalia, western Africa and Nigeria have seen quick Obama support for brutal anti-Islam forces. The silence on the GAZA genocide is deafening. What makes this highly articulate president an idiot is his presumption that through his eloquence he can fool all the people all the time.

7. President Sarkozy of France does not behave like a president at all. He blindly supports the NATO crusade in Afghanistan, disturbs the large immigrant population of France by opposing Islamic dress, hijab, for women, and indulges in playboy type activity. France's honor and dignity are being besmirched by Sarkozy but he thinks he is great. A useful tool for the Zionists, he clamps down hard on anyone interested in discussing what really happened in World War II, in particular the holocaust story.

8. Shaikh Maktum of Dubai had billions of dollars to spend. He spent them on putting up grand buildings, fancy markets, pleasure systems for tourists. Nothing of permanent value, like heavy industry, was put in place. He indulged in horse racing, camel racing and hawk games while the Muslims suffered poverty in Bangladesh and India. Now suddenly this ruler sees the end of the line. He is facing bankruptcy and is getting loans from here and there. Such are the ones condemned in the Qur'an as wasters and profligates.

9. Shaikh Tantawi of al-Azhar heads one of the highest places of Islamic learning, al-Azhar university in Egypt, but he has become a useful idiot for the corrupt rulers of Egypt and for the western powers. He gives FATWAS without thinking of his spiritual position and without considering the Wrath of Allah in the Hereafter. He plays with Islam and each of his fatwas need to be looked at critically. While Egypt faces the issues of poverty, tyranny and recognition of Israel by Sadat, Tantawi tried to divert Egyptians by commenting against niqab which is worn by radical Islamic women in Egyptian universities.

10. The King of Morocco, Mohammed V1, continues to pretend that he is a descendant of the Prophet, pbuh, although he is one of the rulers most malleable to Zionist-western pressures. The paraphernalia of the European nations has been imported into Morocco under his aegis and Morocco looks like a cheap copy of France. Under the facade of grand mosques, the Israelis have an open field for infiltration into the Muslim world. More and more the King looks funny pretending to be an Islamic leader. He thinks he's gotten everyone fooled. As the saying goes, the king has no clothes but he does not know it.

---

Personal from Kaukab Siddique: Two amazing perceptions of Charlotte, North Carolina.
#1. What I saw at the Marathon in Charlotte.

On December 12, 2009 I was in the semi-exotic city of Charlotte, North Carolina. I had heard astonishing reports that my daughter had run several marathons and she would run the one in Charlotte too,organized by a company called Thunder Road. I was worried because worrying about daughters is part of the father complex. A marathon is unthinkable for most human beings. Who can run 26 miles! I had heard that the human body gives out after 20 miles of running or even much before that!

It was cold as I walked by some of the roads on which the marathoners were running and cheered and clapped for the runners. By that time my daughter had gone out to the city limits. Twenty six miles do not fit easily into Charlotte and the runners wound around the city, very well organized by the city police to make sure traffic did not interfere with the runners.

After cheering the runners for 45 minutes, I went into a coffee shop to warm up. I saw a good number of runners coming in for bagels and was surprised because I was told that the marathon continues for 4 hours. The supporters of the runners were congratulating them and were so proud of them. Soon I realized the secret of this early ending: These were people who had run only the half marathon! Their friends and supporters were applauding and praising them. The fact sank into my mind that a half marathon is no joke either! It is 13 milies! The runners do deserve high praise for the 13 miles. Most people can't do it.

After an hour long walk, I reached the finish point of the marathon. Hundreds of runners were milling around in bad shape. Some had fallen on the ground and couldn't move after they finished. Others were lying down comfortably and were being encouraged by their friends. Some were miserable because they were having cramps. Relatives and supporters were holding placards with the names and times of their heroes/heroines on them. I was very worried at the thought that my daughter might be lying somewhere too in severe conditions. Twent six miles of running is unthinkable for me!

Then I saw her! She was sauntering around in her full body running gear as if nothing had happened! She was holding around her the sheer silver sheet runners are given at the end point to stop the escape of their body heat, especially in freezing cold temperatures. We went to the computer which keeps a record of the distance and time covered by each runner. She had done so well! Even broke her previous record! We had to walk another half an hour to pick up her car. Incredible! She didn't want any rest!.

The city of Charlotte looked beautiful. I was so proud of my daughter that everything looked beautiful!

---

#2. Meet Sister Hamdiyya who helps New Trend to be #1 in being Well Informed and Cutting Edge.

My second meeting in Charlotte, North Carolina was with Sis. Hamdiyya who has not been well and has been living with her daughter and sweet grandchild named Corey. This is an amazing sister who does research on the Internet. She is part of our team of volunteers across America who keep New Trend informed of all the important analyses both for and against the Islamic cause. A tall, thin woman, Sis. Hamdiyya is quite uncompromising in Islam and insists on wearing the Islamic outergarments known as hijab.

Her memory is prodigious. She remembered my daughter from a meeting held in Baltimore's ISB masjid about 18 years back.

So, if you send information to New Trend on any issue, don't be offended if we tell you that we already have it. Remember, Sis. Hamdiyya and other dedicated Muslims like her are with us.

Unfortunately, Charlotte's mosques like other affluent immigrant mosques across the country, are not very receptive to a Muslim who is African American and a woman. Organizations like Jamaat al-Muslimeen are needed to bring Muslims together across race, class and gender.

---

Atlanta: Oppression of Muslims in America
From our media monitor
Shameful Sentences handed to Bangladeshi Youths on Bogus Charges and "Thought Crimes": Shifa Sadequee gets 17 years, Haris Ahmed 13.

December 14, 2009: America's Zionist power structure did it again. Two innocent Bangladeshi Muslims were given long sentences for having done nothing other than "thinking bad things about America" and mentally supporting the mujahideen who attacked the Pentagon on 9.11.

Reports indicate that Shifa Sadequee's visit to Bangladesh for purposes of marriage was construed by the prosecutors as an attempt to contact "extremists" in Bangladesh. Also Sadequee, 23 years old, took pictures of tourism related buildings in Washington, DC. This was interpreted by the zionist prosecutor as part of a plan to blow up those buildings!

[Comment: O vey Moshe! This is what Obama's regime does to Muslims. After all the door keeper to the White House is Rahm Emmanuel, an Israeli terrorist.]

Alhamdulllah, the Muslim community of Atlanta was not fooled by the Zionist propaganda. The court room was packed with Muslims in support of the two victims of American justice.

By the way, Sadequee did THINK that America is being controlled by DAJJAL [anti-Christ]. That kind of thinking is going to keep him in prison for SEVENTEEN years. As an observer said, that is not justice, it is the master saying JUST US.

[Comment: Hitler, whom the Jews impugn, did not give anyone 17 years for incorrect thoughts. This is barbarism, based on the idea that America is a superpower, or that perhaps America is god himself ! astaghfirullah.]

What happened at the end of this bogus trial exemplifying America's tyranny and racism should be written in the history of Islam, in particular in Bangladesh: [From the Atlanta-Journal-Constitution of December 14]

'At his sentencing, Sadequee gave a lengthy statement in which he quoted passages, often in melodic chants, from the Quran in Arabic. Sadequee said his intent was to "bring the message of God and his greatness and his wisdom and his purpose."
"I submit to no one's authority but the authority of God," said Sadequee, who refused three requests from [Judge] Duffey to stand when being sentenced. Sadequee also said passages from the Quran called for him to surrender to God's will, which he said included bloodshed and, if necessary, jihad.
If what he said made it worse for him in regards to his ultimate sentence, Sadequee told Duffey, "it doesn't matter to me." '

---

Statement from the Free Shifa Campaign

Dear Friends,
Greetings!
Yesterday was the sentencing of Shifa and Haris. Shifa's sentencing was first at 10am and Haris' began at 2:30pm. The State proposed 20 years for Shifa and 15 years for Haris, who both represented themselves. "I have not and I will not request any sentence. It does not matter to me. I submit to no one's authority but to the authority of God," said Shifa. Both Shifa and Haris courageously addressed the global impact of US colonization through the judicial system utilizing prayer, scripture, translation and comparison of the Quran and the Bible. Between the two sentencing hearings, our team broke for lunch and helped to prep family and community members to speak with the press for the afternoon's press conference, which was held in front of the federal building. In the evening, family and a few community members gathered for food and support.

Below, please find the sentences for both men, highlights from the press conference and a statement from the families.

In solidarity,
The Free Shifa Campaign, Atlanta, Georgia

---

CAIR's Victims Get Respite

December 14: The Pakistani High Court blocked the extradition of five American Muslims to the USA.
The suit was filed by Khalid Khawaja, a prestigious human rights activist and long time reader of New Trend.
CAIR, eat your heart out. Alhamdullilah!
Dirty dogs Nihad Awad and Hooper of CAIR and Bray of MAS, may Allah curse you for your alliance with the kuffar.
The FBI might still win but in the meantime CAIR and American tyranny are being exposed.
Dirty dogs of CAIR, Islam is alive and winning. May Allah punish you, you renegades.
NPR, CNN and MSNBC reported the good news in bad spirit and very briefly.

---

Letter: from Prominent Turkish American: Re: ICNA's Zulfiqar Shah, Exploiter of Islam+Sis. Rafia's Memory+PA's Beauty Contest

Assalamu Alaikum.
Brother Kaukab, I saw the article about Zulfiqar. However due to my sickness, I could not reply. A severe flu is going in Wisconsin and having six grandchildren, it is imposible to isolate the flu.

Re: Zulfiqar Shah: It is pathetic that these so called Islamic Leaders in the USA have made themselves a joke. Leave Islam aside, these people can not be leaders of anything, except as tools of exploitation.
Today, I was reading New Trend and I saw the report on Palestinian Authority holding a beatuty contest for Palestinian girls of the West Bank. These people are not leaders, they are khains (traitors). May Allah help us.

Brother Asim's wife's death has further pushed us to be more active in Islamic work. Inna lillahe wa inna ilaihi rajeun. May Allah grant her jannat al-firdaus. She was a very kind person. When we went to her home, she was very gracious to my family. She always bought toys for our son, Selahattin, when he was a child. She always behaved in a very dignified manner.

Prof. Suleyman Kurter [Wisconsin]

---
War News: Pakistan

AFP photo: Master and servant: Look at the body language: Gen. Kayani holds his hands together as if he is in prayer worshipping his god. Petraeus holds his hands extended in front showing his confidence and supremacy.
Photo taken on December 15, 2009: Top American commander, General Petraeus, Obama's right hand man, giving new orders to General Kayani, the US installed commander in Pakistan's military headquaters. Kayani's military offensive fizzled out in South Waziristan. The Pak Taliban melted away from fixed positions and have re-appeared in Orakzai, Kurram and Bajaur areas. Uzbek mujahideen led by an Arab commander gave 12 lives to hold up the Kayani juggernaut while the Pak Taliban re-grouped. Petraeus has "advised" General Kayani to go after the Afghan Taliban led by mujahideen leader Siraj Haqqani from North Waziristan. Petraeus wants Kayani to do what the Americans couldn't do: defeat the Afghan Taliban.

---

Gen. Petraeus Lauds Kayani's Military Campaign Against Pak Taliban.

Overseas Pakistanis are very vulnerable to conspiracy theories. Kayani's military propaganda has worked hard to convince these secularized Paistanis that he [Kayani] is defending is fighting Pak Taliban because they are backed by India. A person named Zaid Hamid, often wearing a red cap, has worked hard to convince Pakistanis that the military is patriotic and Pak Taliban are the enemies of Pakistanis.
How will Zaid Hamid spin this statement by General Patraeus on December 9, 2009:
'One of the most important developments over the past year has been the impressive determination of Pakistan's efforts against extremists that threaten the stability of the Pakistani state,' Petraeus told the Senate Foreign Relations Committee.
'Pakistani operations in Bajaur, Mohmand, Khyber, Swat, Buner, Lower Dir, and now South Waziristan have significantly degraded Pakistani Taliban groups,' the general said.

---

Latest US Air Attack on Pakistan Kills Somali Islamic Leader:

December 8, 2009: An American drone fired missiles into the Pakistani village of Janikhel, just outside North Waziristan. Several people were killed. US officials say that Saleh al-Somali, an al-Qaidah leader, was among those killed.

---

Ed. Note: The text is in the language of the anti-Islam media. Only the heading is ours

Al-Qaidah Spokesman Adam Gadahn, US Muslim, Denied Attacks on Civilians: Sees US-Pak-India Hand in Killings

December 12, 2009
CAIRO: Al Qaeda denied Saturday that it was behind a series of bombings in Pakistan that have killed hundreds of civilians, saying in a new English-language video that such attacks were un-Islamic.
US-born al Qaeda operative Adam Gadahn, who commonly delivers the organization's English messages, said the extremist network was being framed by the US and Pakistani intelligence services for the bloodshed.
'The perpetration of such deplorable acts and the pinning of responsibility for them on the mujahideen, only serves the enemies of Islam and Muslims, who are today staring defeat in the face,' he said, also blaming the media for implicating al Qaeda in the attacks.
'The mercenaries of the ISI, RAW, CIA or Blackwater are the real culprits behind these senseless and un-Islamic bombings,' he added.
RAW is the Indian intelligence agency, while Blackwater is the private security firm - now called Xe Services - whose involvement in the killings of Iraqi civilians have tarnished its reputation throughout the Muslim world.
More than 500 people have died in a slew of attacks in Pakistan that began in October, just as the Pakistani army started waging a ground offensive against the Taliban network in South Waziristan, a tribal region bordering Afghanistan.
A single truck bomb in the northwest city of Peshawar killed more than 100 people at a market that sells mostly women's clothes and children's toys. More recently, twin bombs at a similar market in the eastern Pakistani city of Lahore killed nearly 50.
Militant groups such as al Qaeda and the Taliban that operate in Pakistan tend most often to attack security targets. They generally avoid claiming responsibility for assaults that kill a large number of civilians.
In a transcript of the video released by the SITE Intelligence Group, a Washington-based monitor of militant websites, Gadahn told Pakistanis their real enemies were secular regimes, corrupt police, judges and tribal nationalists.
In Pakistan, where conspiracy theories are rife, support for militancy has only recently taken a downturn, and anti-Americanism is widespread, Gadahn's message may have some resonance.
After the market blast in Peshawar, many Pakistanis expressed disbelief that Islamist groups could have attacked other Muslims in such a manner. And in some corners of the Pakistani media, Blackwater has increasingly been floated as a culprit in nefarious events.
Gadahn grew up in Los Angeles and then moved to Pakistan in 1998, according to the FBI. He is said to have attended an al Qaeda training camp six years later, serving as a translator and consultant for the group.
al Qaeda's media arm, al-Sahab, is increasingly using English-language videos to address Muslims in Pakistan who are unlikely to speak Arabic. Gadahn's message specifically addressed Muslims in south Asia, including India, Pakistan and Bangladesh.

---

AFGHANISTAN STRATEGY OF PRESIDENT OBAMA

[EVALUATION IN THE HISTORICAL PERSPECTIVE OF PAKISTAN]

[Shamim A Siddiqi, New York]

Since the time President Obama announced his new Afghan Strategy on Tuesday December 1, 2009 before cadets at West Point, a lot of discussion and criticism has been let loose both in favor and against, especially setting about the dead line to start withdrawing from July 2011. Unfortunately, this is the hardest and the most difficult point of entire scenario created by the foolish and concocted brutal attack on Afghanistan by President Bush, PM Blare and their henchmen around the world. Their grounds of attack were flimsy, unverified and full of arrogance. Still none has any proof that Afghanistan or OBL were involved in blasting WTC on September 11, 2001. The ground was whimsical and was never verified by any judicial probe either of US National Inquiry Commission or any International Judicial authority as: WHO DID IT AND WHY? The situation still stands ambiguous, confused and doubtful beyond any shadow of doubt. In consequence, the USA brought Afghanistan to the prehistoric age of total ruination, throwing Pakistan in the grip of total anarchy and putting its military in an unending clash and killing of its own innocent people in pitched battlefields in Swat, Waziristan and elsewhere in the country.

Unfortunately, it appears that Afghanistan was simply made a scapegoat to provide the opportunity for America to "occupy" Pakistan and keep it occupied for an indefinite period to capture its nuclear project and finish its ideological identity for good. Both these prominent identity marks of Pakistan were and are the cause of great concern for the entire secular West, the Zionist lobby in the USA and around the world, and the Indian "dream" to undo the partition of India to attain its ever alive passion of "Akhand" Bharat. There is a historical background behind this antagonistic phenomenon and I must elaborate it to assess the latest strategy of President Obama about Afghanistan and Pakistan in its correct perspective as to why the armed forces of the USA and Europe are going to stay in the region for an indefinite period and keep Pakistan in central focus.

Pakistan was carved out of the Subcontinent of India as an independent Islamic State in the annals of human history in July 1947. At that time Europe was licking its wounds sustained in Second Great War and was resurrecting gradually under the oxygen tent of the Marshall Plan of America. It could not make any hue and cry at that time. But by the year 1956 its economy was rehabilitated. It then realized the significance of emerging Pakistan as an ideological Islamic State when its Constitution was framed and promulgated in March 1956 and elections were promised to be held in December 1958. Immediately Europe and the secular world got the shocking message as what was going to happen so soon. The anti-Islamic forces both in Pakistan and outside the country started working forthwith against the so-called growing Islamic fundamentalism in Pakistan - the presumptive death knell to the secular world and the Zionist ambition of Greater Israel.

The top notch of Pakistan military was British trained and a military coup was manipulated from within its ranks and files. General Ayyub Khan who was the C-in-C in Pakistan illegally overthrew the established Government of Pakistan, declared its Constitution null and void, promulgated Martial law in Pakistan on October 8, 1956 and imposed himself as its Martial Law Administrator. The entire democratic process was ceased and folded back.

General Ayyub Khan was a Freemason. He was elected its member in 1944 when he was the Captain in Coxes Bazaar. I happened to see that list of Free Mason members in 1962 which another Member was holding who was the Managing Director of a shipping company and the Vice Consulate of a Scandinavian country in East Pakistan. The Zionist lobby manipulated this card and torpedoed the emergence of the Islamic State of Pakistan for good. General Sikandar Mirza, the appointed Governor General of Pakistan was sailing too in the same boat along with General Yahya Khan who followed Ayyub Khan when he was ousted from power due to public agitation. In consequence, Pakistan was partitioned and East Pakistan became the independent sate of Bangladesh. Late Zulfiqar Ali Bhutto became the Prime Minister of the West Pakistan and Martial Law Administrator both. This was the first shock given to the people of Pakistan and all the big powers including the USA and India played their dirty major role in this tragedy.

Under overwhelming public pressure of Muslim masses, PM Zulfiqar Ali Bhutto though secular restored the Constitution of Pakistan in 1973 with its Islamic Provision declared Qadianies as non-Muslims and took initiative to make Pakistan as a nuclear country. In the year 1998 Pakistan went through its nuclear test in response to that of India and became a recognized nuclear country. This status of Islamic Republic of Pakistan with nuclear capabilities and Islam as its predominant ideology was never acceptable to Western countries, the Zionist lobby and the Indian hegemony. Since then all have been conspiring to rob Pakistan of its distinguished features.

The secular political regimes or military dictatorship whosoever came to power in Pakistan by hook or by crook were never sincere to the Islamic Provision of the Constitution and kept them as non-operative. General Ziaul Haq, PM Nawaz Sharif and PM Benazir Bhutto and General Pervez Musharraf all were never sincere in transforming Pakistan into an Islamic State for which it was carved out of Indian Subcontinent as a laboratory for Islam. All were always scared of the West's abhorrence of Islam and its application in any form in Pakistan. However, the West, the anti-Islam forces around the world, the Zionist lobby of Europe and America and the Indian hate against Pakistan all got their meaningful expression in the form of "gorilla" General Pervez Musharraf in 1999 when he ousted PM Nawaz Sharif from power and became the most ambitions military dictator of Pakistan, aspiring to be the Ataturk of Pakistan.

General Musharraf "surrendered" the Sovereignty of Pakistan simply to a verbal threat of an employee of President Bush and paved his way to attack his neighbor, a Muslim brotherly country Afghanistan and to occupy in turn both Pakistan and Afghanistan in the fictitious name of "War against Al-Qaida" and its spreading "threat" in the region. The USA supported his military regime and he made a lot of dollars in exchange for capturing the innocent Muslims of Pakistan and of other Muslim countries that were in hide out in different parts of Pakistan as suspected collaborators of Al-Qaida and BLD. They were the remnants of Mujahedeen who fought against Russian occupation of Afghanistan at the behest of America. Thousands of brothers are missing. For long nine years General Musharraf was carrying out the military agenda of the USA in Pakistan and fighting Bush's war in Afghanistan while in complete control of Pakistan affairs.
General Musharraf destroyed the ideological genesis of Pakistan, ruined all its democratic institutions, arrested the Chief Justice of Supreme Court when he refused to bow down before him, flooded the country with western and Indian culture, made a U-turn on the issue of Kashmir, deported hundreds of innocent Pakistanis to Guantanamo Bay prison for the greed of Dollars in ransom from the USA, reformed the Madrassa system of education by removing the Qur'anic verses regarding Jihad form the courses, killed hundreds of innocent boys and girls of Lal Madrassa at Islamabad, made the Army of Pakistan to serve as the stooge of American interest, giving it total access to Air Fields, ports and free passage to Afghanistan and granted permission to American Embassy in Islamabad to be fortified like Pentagon, making Pakistan to look like the colony of the USA.

The crime list of General Pervez Musharraf is limitless. He usurped the Constitution of Pakistan twice and robbed its Islamic and democratic character openly with an adamant attitude of recklessness and made Parliament his "rubber" stamp. Influence of the USA reached to its highest peak, conspired with sick and corrupt politicians and gave them free wheeling in politics by allowing them to be the free-agent of corruption under NRO. He is now absconding to UK and hiding his "ugly' face under the protection of British Canopy. His nine years dictatorial regime in Pakistan was just a curse and a shame. If he dares to enter Pakistan, its Independent Judiciary will now put him to gallows for all of his open and hidden crimes against Pakistan, its Constitution and innocent people. He paved the way for America to dominate both on civil and military hierarchy. He created the Balochistan card for its adversaries to exploit culminating into "Independent Balochistan Movement" at the hands of the progenies of late Akbar Bugti Merhoom and a trump card in the hands of its arch enemy India to explore and exploit vehemently for long - the next target of America to hit by drone and kill innocent Muslims on the pretext of chasing Al-Qaida leadership as Obama's predominant strategy in Pakistan.

Under this precarious situation of Pakistan, its military is bogged down at both sides of the country: with the borders of Kashmir against Indian occupation and with insurgents in Waziristan and at the borders of Afghanistan and encountering the frequent retaliatory attacks on civil and military targets in the Province of Punjab and NWFP. With this growing insurgencies in Pakistan and the determined expression of President Obama to chase the leaders of Al-Qaida in their "sanctuaries" in Balochistan and border regions of Afghanistan -Pakistan, President of Pakistan, Asif Ali Zardari strongly blames America by writing in an article to NY Times: "The one-sidedness of American policy [that] fuels the conspiracy theories that abound here - theories that blame the West for all of our ills. Pakistan elected democratic leadership is itself a victim of some of these conspiracy theories. Our American partners must understand their origins and work with us to turn public opinion around". He further writes that America's long term commitment of 7.5 billion dollars aid to Pakistan "must be complemented by short term policies that demonstrate American neutrality and willingness to help India and of Pakistan overcome their mutual distrust. It could start by stepping up its efforts to mediate the Kashmir dispute" [Ref: New York Times -Op-Ed page of December 10, 09]

It all appears to be the wishful thinking and rhetoric of President Zardari. The agenda of President Obama seems to be different and open-ended. He was crystal clear in his speech of December 6, 09 exhorting that he is "convinced that our country is at stake in Afghanistan and Pakistan" which he called "the epicenter of violent extremism practiced by Al-Qaida. This is no idle danger, no hypothetical threat" He raised the terrifying prospect of an unchecked Al-Qaida taking over a nuclear armed Pakistan. He forcefully argued that Pakistan's survival also depends on defeating Al-Qaida.

These assertions of President Obama clearly confirm that the USA cannot rely on Pakistan promises about its nuclear arsenal. It is going to stay in the region much beyond July 2011 for a period not known to any one. America is planning to root out Al-Qaida and today he categorically affirmed in his speech while receiving Nobel Peace Reward of 2009 that if necessary he is open to send more troops to continue and contain the war against Al-Qaida forces. In his recent inaugural speech, President Karzai categorically said that the national Afghanistan forces will only be able to undertake the security of the country from American hands only after 20 - 25 years. July 11, 2011 is, thus, a fictitious time frame only for the home consumption of US citizens.

America is going to "stay" in Pakistan for an unlimited period of time. They have no control either over Taliban or Al-Qaida or over the mass resurgence of the people of these two countries. The prolonging of stay of America and its Allied forces in Afghanistan and American occupancy of Pakistan will keep the masses agitated at an accelerated pace. It may result only in increase insurgency in Pakistan, rendering its nuclear arsenal "slipping" gradually in the hands of the USA or under the control of UN Agencies and keeping the country tied down with the opportunist secular leadership as "friends" of America with no interest to restore the inherent character of the Islamic Republic of Pakistan. This is the ultimate game plan of Jewish and Indian lobby in America and President Obama is only its tool. He has no opinion of his own except that of the vested people surrounding him. Had he any, he could pursue it after his much publicized speech of June 3, 09 in Cairo. He is surrounded by "Ahley Yahud and Ahley Hanud" and he is their mouthpiece.

In the wake of this pitiable situation the people of Afghanistan and Pakistan have to fight their own battle of survival for their ideology, national character and nuclear arsenal, seeking help only from the Lord of this cosmos Who is the best Planner. He can defuse the entire planning of our adversaries in no time provided we seek help only from Him. America cannot stay in the Region for long as it is already paying its high price about 300 billion Dollars every year with increasing national debt of trillions of Dollars. The foolish Wars in Iraq, Afghanistan and the Occupancy of Pakistan are fast diminishing its supremacy in the community of nations. History will curse both Bush and Obama for centuries together. Russia lost its supremacy after defeat in Afghanistan. The USA failed to learn any lesson from its contemporary power. So, it must suffer too in the same manner. The lesson of history is always harsh and hard to swallow for generations to come.

Shamim Siddiqi

WWW.dawahinamericas.com
December 10, 2009

---

Photos of the peaceful revolution underway in Pakistan led by Syed Munawar Hasan and the diverse leadership of Jamaate Islami. America is facing a peaceful but determined opponent. The first 4 are from Karachi, followed by Gujranwala, Peshawar, Pishin and women in Lahore.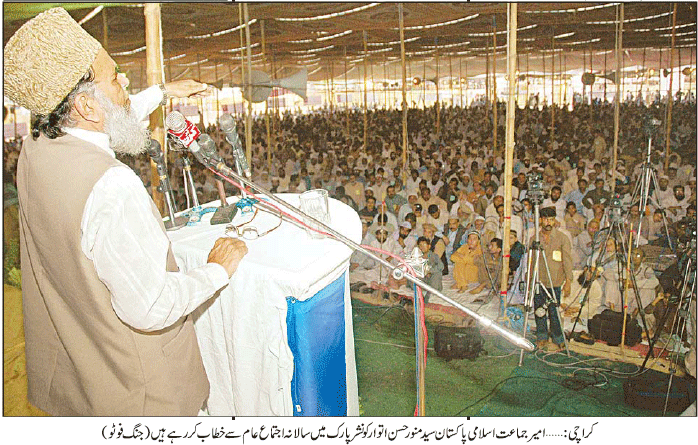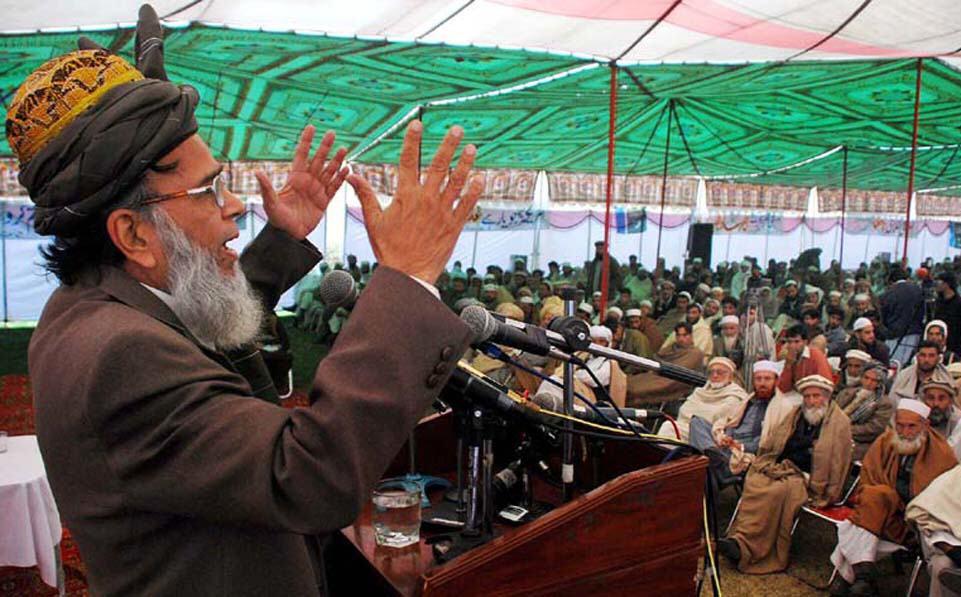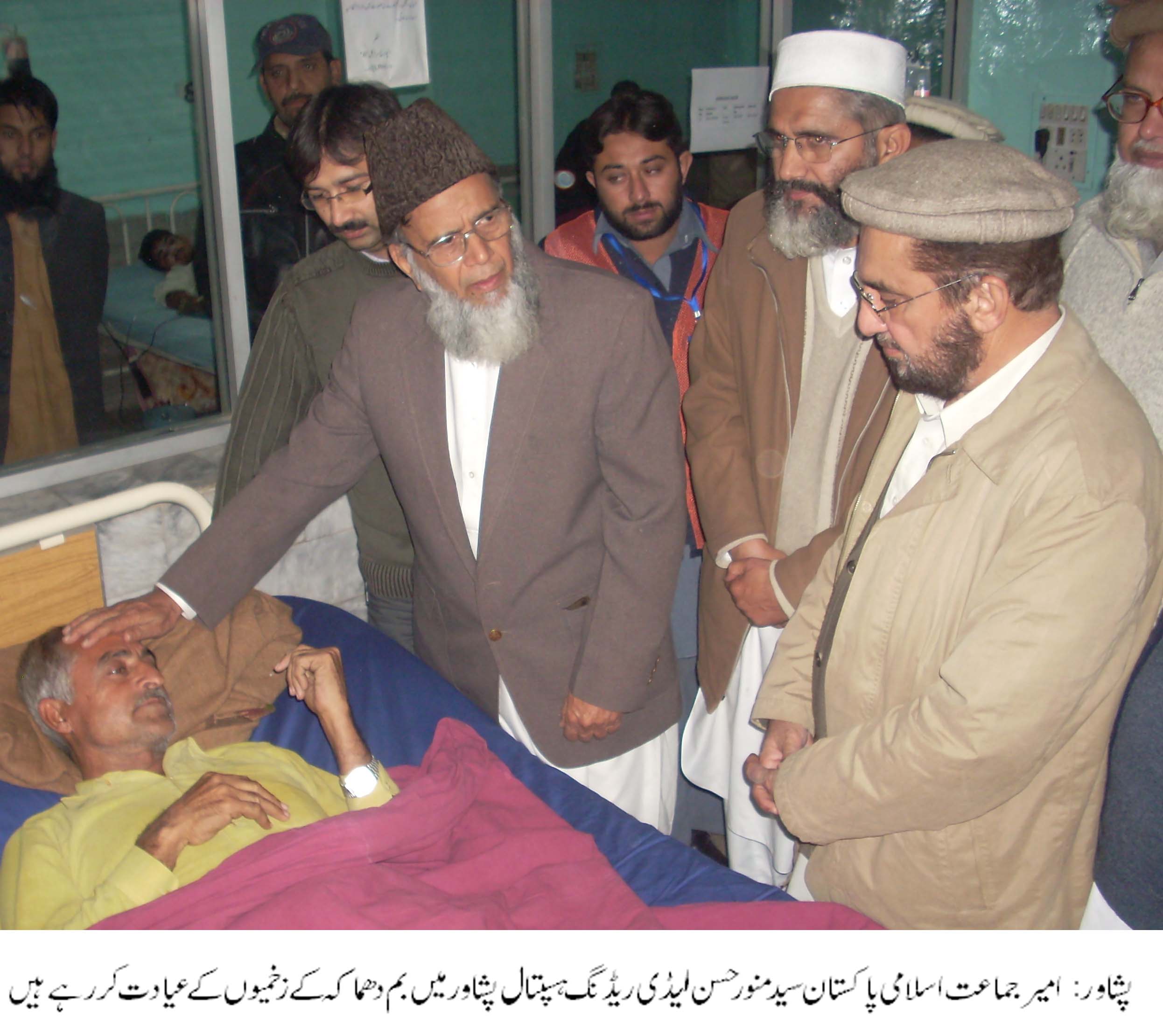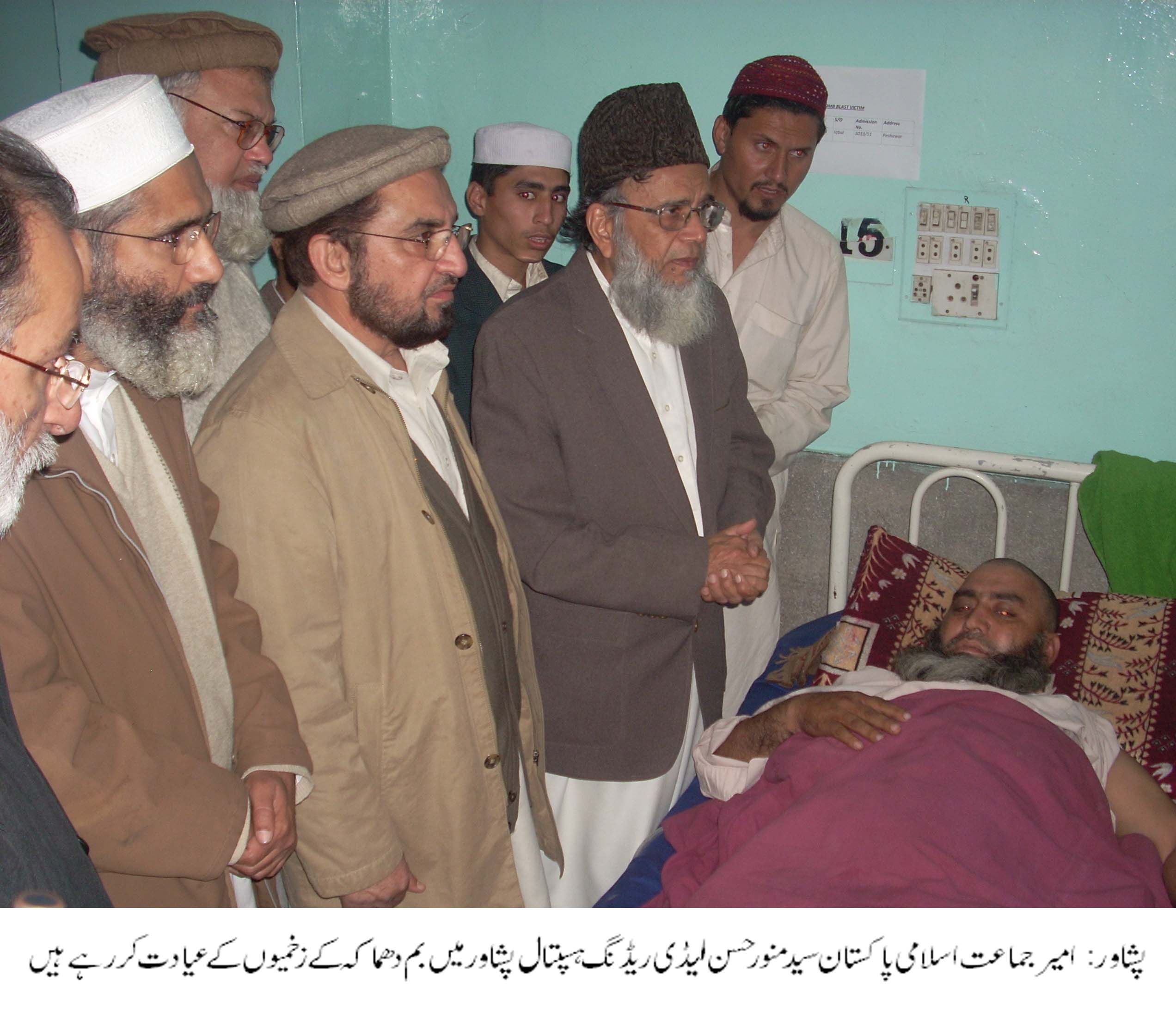 2009-12-17 Thu 18:34:39 cst
NewTrendMag.org