NewTrendMag.org News # 1294

[ Click on NEWS for back issues ][ OUR BOOKS ]



Sha'ban 14,1430/ August 6, 2009, # 38

---

The honor, the faith, the fearlessness, the acceptance of Allah's will. How the leader of the Islamic uprising in Nigeria faced martyrdom. Scroll way down for photos of his last moments. Do not look if you are weak in your faith. Inshallah, the emergence of a powerful Islamic transformation has begun with the sacrifices of 700 Nigerian Muslims. Not a surprise that Hillary Clinton is going to Nigeria to reinforce her client regime.
[The Nigerian bloodbath was censored by U.S. TV networks which have been focusing on the, probably, accidental death of one woman in Iran.]

---

Spotlight from Imam Badi Ali [North Carolina]

Spotlight #1: The Prophet Muhammad, pbuh, described the imam or leader of the Muslims as the shield for the believers, one who can be trusted to protect the DEEN and the Ummah. The behavior of the imam should be above any lowly motives. If our leadership is unreliable and sold out, Muslims waver and do not know what to do and what program to follow. Much of the problem of the Muslims today is the problem of a leadership which is not a shield for the ummah but for the oppressors.

Spotlight #2: America's people are facing a breakdown of their dreams with the ever increasing losses of jobs, the erosion of businesses and the pain of foreclosures. Americans are smart when it comes to economics. Gradually it is becoming clear to them that "economic terrorists" are undermining all their efforts. The bankers, the lawyers, the physicians, the pharmaceutical industry are gutting America. A great disillusionment is sweeping through America. More and more, the people feel, we NEED a FRESH START.

---

Jamaat al-Muslimeen [News] [Next 4 items only.]
P.O. Box 10881
Baltimore, MD 21234

California Critic of the Holocaust story asks, why Palestinians are being Punished for Suffering of Jews?

In this six-minute clip Bradley Smith argues the obvious - that it was not the Arabs of Palestine, or any other Arab country, who are accused of killing millions of Jews in Eastern Europe.

If that is the case, and it is, Smith asks why the Arabs of Palestine should be driven from their homes and their land occupied by European Jews? And why should the U.S. Congress bankroll the crime?

You can view this exchange at:
http://codoh.c.topica.com/maaniBbabR8P3bJZ1T6bafpTId

To read Smith's monthly newsletter challenging the Holocaust Taboo, click here:
WWW.CODOH.COM

---

The Weight of Tradition: Why Judaism is Not Like Other Religions Mark Weber
http://www.ihr.org/judaism0709.html

... Judaism is not just "another religion." It's unique among the world's major religions. The core values and ethos of Judaism are markedly unlike those of Christianity, Islam, and the other great faiths ... A core message of the Hebrew scriptures is that Jews are a divinely "chosen" people -- a unique community distinct from the rest of humanity ... The seemingly intractable Middle East conflict is more than just a problem of Zionism or politics, or a dispute over land. Israel's often arrogant policies, and especially its inhumane treatment of non-Jews, have roots in centuries-old attitudes that are laid out in ancient Jewish religious writings.

---

Jamaat al-Muslimeen Re-Organization in Canada after Sister's Visit

August 2, 2009: Sis. Ashira returned from a visit to various towns in Ontario, Canada. She talked to some old time activists and supporters of Jamaat al-Muslimeen. She attended a big Juma' prayer gathering at a prominent mosque and interviewed the khateeb after the prayers.

Sis, Ashira was invited to several wedding ceremonies of Muslims from Africa and got a good feel for the lifestyle of immigrant women from Africa.

Inshallah, we hope to publish some of the interviews.
Canadian Muslims desirous of joining Jamaat al-Muslimeen are welcome on the basis of the Qur'an and the authentic Hadith, with independent shoora and equal participation of women, with no links to oppressors.
Sis. Ashira is the Administrator of Masjid Jamaat al-Muslimeen. She leads the struggle for the Islamic rights of women. She is against war and the mistreatment of prisoners in US prisons.

---

New Publicity Card for Jamaat al-Muslimeen's Boycott of Businesses Supporting Israel: California First

Following Jamaat al-Muslimeen's recent shoora meeting in Pennsylvania [July 25], Sis. Karen, Director of the Boycott Campaign against Israel, issued a new boycott card for distribution across Muslim communities in America. The first mailing is going out to a whole list of mosques in California.

Sis. Karen wants Muslims to realize that this boycott is the most effective form of non-violent resistance to the Zionist control of America.

The new card gives alternatives to the major boycotted companies to reduce the feeling of hardship. It also carries a map of Palestine showing the growth of Jewish usurpation and settlements.

Boycott is an effective tool. Have you seen the counter-boycott publicity by Starbucks? They are claiming that they do not help the Israeli army.

To offer to help distribute the cards, email: pradia2@aol.com

---

Media Against Islam: India

Muslim group refutes terror allegations against Madrassas Tuesday, August 04, 2009 10:54:23 PM, IANS

Patna: "Madrassas have nothing to do with terrorism," a religious group says in a report that also negates the allegations that Muslim seminaries in India are breeding ground for terror. The report by All India Coordination Committee for Madrassas (AICCM) said "a concerted campaign... to malign madrassas" had led to the deterioration of educational standards in Muslim seminaries.
http://www.ummid.com/news/august/05.08.2009/muslim_group_refutes_terror_allegation_against_madrasas.htm

"There are over 4,000 madrassas in Bihar, including the seminaries where the staff gets the salary from the state government.
There are 2,459 unaided madrassas. According to the first-ever status paper brought out by the AICCM, there are only 32 madrassas for girls under the government-aided category and 576 madrassas in the unaided category."

---

Media against Islam: USA
How the Propaganda Campaign against Islamic Pakistan works.

New York Times is steadily publishing propaganda against the Islamic forces in Pakistan while largely ignoring not only the resistance viewpoint but also the mass gatherings of a peaceful movement like Jamaate Islami which has been condemning U.S. intervention and military operations in Swat.

New York Times feeds the entire network of "liberal"-zionist newspapers in America.
NYT reports are then picked up by the tiny pro-U.S. groups in India. Here is one example with New Trend's comment.
Nicholas Kristoff went to Karachi and published a nasty propaganda piece against the Taliban. From there it was picked by a one man-show in India known as NewAgeIslam, and then from there by a Zionist woman in America.

"War on Terror," as if there is any such thing, was put out by New age. It was simply a "copy and paste" job of Nicholas Kristoff's self-serving moralistic report.

War on Terror
24 Jul 2009, NewAgeIslam
America, Give Pakistanis Books, not Guns

Terror Creeps Into the Heartland
By NICHOLAS D. KRISTOF, New York Times
KARACHI, Pakistan

---

Here is New Trend's comment on Kristof's report:
New York Times is disseminating Zionist propaganda.
For one thing, it does not tell readers that "medressa" is Arabic for "school." "Dars" is simply lesson or teaching.
The Pakistani army led by first General Musharraf and now General Kayani has been destroying Islamic schools for years in tandem with the U.S. air force.
The Taliban , in response, started destroying westernized schools set up by the regime.
Imagine if the enemy of your people blew up your schools, mosques and holy books with the STUDENTS inside the schools and then set up his own schools there to brainwash your children.
In one U.S. air attack alone on an Islamic school [in Bajaur], 80 Muslim students were killed.
The Taliban have not killed anyone in their retaliation on secular schools.
So don't buy the hype. There are always two sides to a story.
This brainwashing after bombing happened in Germany too under Zionist supervision during World War II.

---

New Trend Editor Urges Judge Bruce Lee to Release Abu Ali: Bush couldn't Defeat Islam. Why do you think you can?

August 3, 2009

Judge Gerald Bruce Lee
U.S. District Court for the Eastern District
401 Courthouse Square, Room 601
Alexandria, VA 22314

Re: Life sentence handed to Abu Ali

Dear Judge Lee

I am shocked at the terrible sentence you have handed out to Abu Ali based on his confession in Saudi Arabia under torture.

As you know, the Saudis are very good at torture, even better than the Americans in Gtmo.

In no way do the accusations against Abu Ali reach the level of "beyond a reasonable doubt."

I urge you to release Abu Ali and not make a laughing stock of the American justice system by sentencing an innocent man to life in prison.

I am a writer and a blogger and I am sure the Muslim community in America is shocked and disgusted at the cruel punishment meted out to Abu Ali.

Surely the Muslim community will not let this pass.

You know Bush lost the elections in part owing to his hateful policies of war against Muslims. Please do not continue his work against Muslims. Islam is too strong for you. You won't win by continuing these policies of hatred and tyranny.

Sincerely

Kaukab Siddique, Ph.D
Associate Professor of English & Mass Communication
Email: ksidd37398@aol.com

---

Readers are urged to use this letter or write similar letters to Judge Bruce Lee. Say it loud and clear.

---

Endorsed by Jamaat al-Muslimeen
Black August Events. [ Muslims should educate themselves about America by going to some or all of these events.]

Aug 8th, Sat. 2pm - 6pm
Tupac Shakur: Shadow Revolutionary
Maya Angelou Public Charter School
1851 9th St NW (9th& T), Washington, DC

On the birthday of Dr. Mutulu Shakur, we will feature this conference which will discuss his history as a revolutionary with the Black Panther Party and Black Liberation Army, as well as his circumstances as a Political Prisoner. Moreover, we will focus on his God-son, Tupac Shakur, as a Shadow Revolutionary and the evidence of him being targeted by the FBI and his influence as a rap artist. Participants will include John Potash (Author of The FBI War on Tupac Shakur and Black Leaders), Dr. Jared Ball (VoxUnion.com), Dr. Kokayi Patterson (African Wholistic Health Association), Khalil Mustafa (Friends and Family of Dr. Mutulu Shakur), and Daniel Bradley (Peaceoholics).

Aug 9th, Sun. 3 - 6pm
Book Signing and Discussion
with Flores "Fly" Forbes --- 'Will You Die With Me?'
Sankofa Video/Bookstore & Café
2714 Georgia Ave NW, Washington, DC

Flores Forbes will discuss and sign his book. In this remarkable memoir, Forbes vividly describes his transformation from an angry youth into a powerful partisan in the ranks of the black liberation movement. With intimate portraits of such BPP leaders as Elaine Brown, Eldridge Cleaver, and Huey P. Newton, Will You Die with Me? is a riveting firsthand look at some of the most dramatic events of the last century and a brutally honest tale of one man's journey from rage to redemption.

Aug, 22nd Sat. 9am
Part 1 of Slave Rebellion Weekend:
3rd Annual Pilgrimage to Prosser City (Richmond,VA)
Meeting and leaving from Sankofa Bookstore (2714 Georgia Ave) at 9am SHARP!

Van/bus to Richmond, VA will include a tour and History of the Gabriel Prosser Revolt/Conspiracy. Led by Anna Edwards and Brother Manifest, this has proven to be a memorable stimulating experience for all in previous years. The cost of this trip is $20 (contact: 202-580-4001) or you can follow us there.

Aug 23rd, Sun. 3 - 6pm
Part 2 of Slave Rebellion Weekend: Lecture with Dr. CR Gibbs
Maya Angelou Public Charter School
1851 9th St NW (9th & T), Washington, DC

CR Gibbs will present a thorough lecture/slide presentation entitled: "LET YOUR MOTTO BE RESISTANCE: THE GREAT SLAVE REBELIONS"

Aug 29th, Sat. 1pm - 4pm
Monthly Political Prisoner Workshop & Presentation on BAPO Congressional Lobby efforts
Southwest Branch Library
900 Wesley Place, SW, Wash., DC (3rd & K st, 3 blocks from Waterfront-SEU metro)

Monthly letter writing initiative. This month we willfeature Ruchell Magee, sole survivor of the Marin County Court rebellion and Sekou Odinga of the Black Liberation Army. Afterward, Naji Mujahid will present BAPOs plans for a congressional lobbying effort on behalf of PP/POWs and to address the inhumane operation of the prison system.

---

Authentic Islam Emerging In Nigeria.
Islam is Reborn After Every Kerbala. Nigerian Taliban leader Muhammad Yusuf, head held High, refused to Bow Before Nigerian Army.
He was Shot down in Cold Blood by the Kafir Nigerian troops. Even in Death he bears witness to Allah [See the symbol of Tawheed which we circled in red.]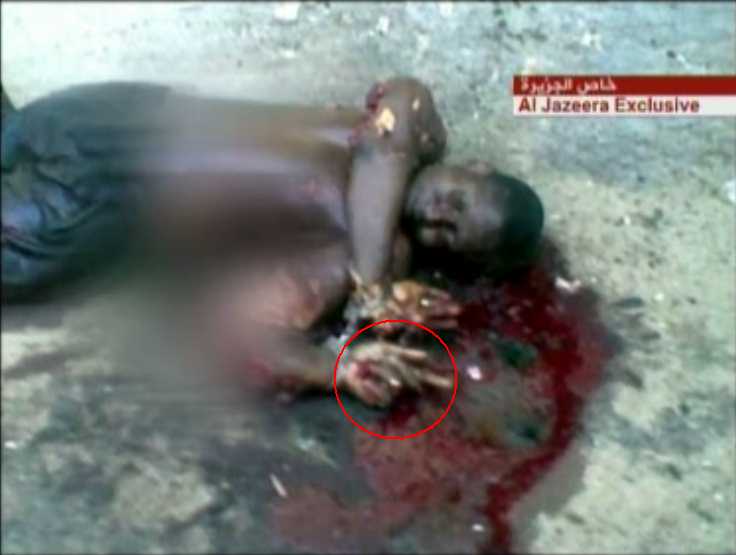 Someone took this photo of Muhammad Yusuf and sent it to the BBC. It shows that he was captured alive. The army tried to humiliate him and attempted to make a fake video of him begging the army for mercy. As the photo shows, he did not show any signs of fear or weakness even though he is surrounded by Nigerian troops, thirsty for Muslim blood.

The second photo, obviously sent to al-Jazeera, shows the martyr immediately after his murder. He gave his life purely for the DEEN of Allah, focused on Allah even as the mercenaries of Zionism and Imperialism shot him down. May Allah place him in al-Firdaus, in the company of Shaikh Ahmed Yaseen [Palestine] , Abdur Rasheed Ghazi [Pakistan] and Malcolm X [USA]. May the houris of Paradise give him bliss and everlasting joy.

---

War News: Pakistan

Obama Day 198: U.S. Drone Attack in Pakistan Kills Baitullah Mehsud's Wife

August 6, 2009: Zangra village in Ladda area of South Waziristan. Reuters reports that a U.S. drone fired two missiles at the home of Ikramuddin, the father-in-law of Baitullah Mehsud, the Islamic leader of the Pak Taliban in South Waziristan. Baitullah's wife and two Pak Taliban were killed in the attack and 5 wounded. The house was demolished. Baitullah was not there. It took a while for the rubble to be removed so that his wife's body could be taken out.

---

All Night Artillery Fire on North Waziristan Villages

During the night of August 3 and 4, Pakistani troops used heavy artillery and mortars to hit various villages of people suspected of supporting the Pak Taliban. At least 16 homes were demolished and many more damaged by heavy artillery fire which continued all night. The inhabitants had left but scores of livestock were killed. However in three villages, mortar fire killed civilians. In Haider Khel village, a villager named Meer Shah was killed along with his wife, his two daughters, his two sons and his brother. In Chasma village, a mortar shell killed 2 women and a child. In Machis village, the only child of his parents was killed. A wave of anger against the army is sweeping the area.

In retaliatory fire by the Pak Taliban, the army's position in Miran Shah was hit and 4 Pak troops were killed.

---

Pak Air Attacks, Military Operations in Mohmand, Swat and Dir Areas of Malakand Division

August 4, 2009: Pak Taliban kidnaped 16 persons connected to the Pak government, including two troops, in one area of Mohmand agency. In Dir, Pak air force jets carried out bombing raids killing 5 suspected Pak Taliban. The Pak army destroyed the homes of two Taliban leaders. The army is having a problem finding the Taliban and has arrested 27 persons on suspicion. In the towns captured by the army, money is being pumped in to create "normalcy" but curfew remains in effect except for several hours during the day.

There was alarm in the Peshawar area on the rumor that suspected Taliban had been seen in the area.

Pak airforce has announced that it carried out 300 bombing raids on Swat during the last three months as well as 100 raids on South Waziristan. F16s supplied by the U.S. were used in the attacks.

---

Afghanistan: Classic Guerrilla Warfare: Taliban winning. NATO Facing Serious Difficulties.
Samples of Attacks.

August 5 and 6 HELMAND - A roadside bomb exploded next to a police vehicle on Thursday in Helmand province, killing five policemen and wounding three others, the Interior Ministry said in a statement. LAGHMAN - Taliban guerrillas ambushed trucks carrying supplies for NATO troops on a road linking the capital with the eastern region on Thursday, killing two drivers, the Interior Ministry said. FARAH - A U.S. soldier was killed by a roadside bomb in the western province of Farah while on patrol on Wednesday, the U.S. military said.

Militants or farmers? [MSNBC report]
A local police chief said a Western airstrike late Wednesday [Aug.5] killed five farmers loading cucumbers into a taxi in the rural Zhari district to the city of Kandahar.
However, a U.S. military spokeswoman said the five were militants placing explosives in a van.
[New Trend comment: This looks like a random air strike based only on suspicion, somewhat like police in the U.S. who kill African Americans on mere suspicion.]

August 1 and 2: According to NATO's International Security Assistance Force, a French soldier was killed Saturday in a firefight with Taliban outside Kabul, and two Canadian elite troops were killed in the south. [ref: Helmand].

Three U.S troops were killed in a Taliban attack in Kandahar province on Saturday. Three more American troops were killed Sunday in Wardak province, to the west of Kabul. U.S. military officials said their convoy first struck a roadside bomb and then came under small-arms fire. Such coordinated attacks -- combining an initial explosion and a follow-up ambush -- have increasingly become a hallmark of the Taliban operating in the country's eastern sector. US says many Taliban are said to be under the command of Islamic leaders based in Pakistan's tribal belt, including Sirajuddin Haqqani, leader of the powerful Haqqani network.



2009-08-06 Thu 19:00:43 cdt
NewTrendMag.org