NewTrendMag.org News # 1232

[ Click on NEWS for back issues ][ OUR BOOKS ]



Rajab 24,1429/ July 27, 2008, #41

---

Astounding: Iraqi leader al-Douri calls for victory. Scroll all the way down.

---

Charles Carlson: True disciple of Jesus, pbuh, challenges pro-Israel church and Sudan slavery stories. See below; Good reading.

---

Genuine Pakistani voices: Umm Hasan, Hafiz Muhammad Saeed, Syed Munawar Hasan prepare Pakistan for resistance. Scroll way down

---

Our America
Not Anti-Semitism but
Fact Top Israeli Terrorists are directly funded by American Jews: This is how "democracy" functions in the Zionist Entity

Excerpt from the Washington Post:
Saturday, July 26, 2008
"JERUSALEM -- American businessman Morris Talansky has riveted Israel with tales of bankrolling the plush lifestyle of Prime Minister Ehud Olmert: the expensive cigars and five-star suites, a fine watch and an Italian vacation....
Politicians in Israel have long known that if they want to raise large amounts of money, for whatever reason, they'll find it in the United States.
Foreign donations are banned for general elections, but Israeli leaders routinely get half or more of their campaign contributions for party primaries from overseas, and mostly from American donors.
The fundraising trend is especially pronounced on Israel's political right; politicians who advocate aggressive military action against Iran and Hamas and who maintain an uncompromising stance against ceding land to the Palestinians have typically found generous support for their views in the States.
Former prime minister and Likud Party leader Binyamin Netanyahu, for instance, received approximately $400,000 -- 75 percent of his donations for a 2007 primary -- from U.S. contributors, according to the Israeli comptroller' s office. "

---

International Islamic Conference for Peace and Awareness: August 15-16, 2008. Baltimore, Maryland: www.JAM4PEACE.org Juma salat on August 15, 2008 at conference venue.
1.30 PM
Khutba by: Imam Warith Deen Umar [Albany, New York]
Distinguished Imam who stood up to outright Zionist oppression in the darkest days of the Bush presidency.
2.30 PM
Nasiha: by Maulana Ehsanullah Khan [Pakistan]. Powerful Arabic recitation, beautiful Urdu. What is the Essence of Islam? [English translation will be made, inshallah.]

---

Islamic leadership delegation expected: On August 16, inshallah, a delegation from Imam Jamil al-Amin's International Committee led by Imam Khalil Abdur Rahman will deliver Imam Jamil's message.

---

Two Latest Endorsements of August 16 Conference:

1. From Grassroots Activist Sister in New York City.

"The Believers, men and women, are protectors, one of another..."
The Holy Qur'an, 9:71

"There is nothing in our book, the Koran, that teaches us to suffer peacefully. Our religion teaches us to be intelligent. Be peaceful, be courteous, obey the law, respect everyone; but if someone puts his hand on you, send him to the cemetery. That's a good religion."
-- "Message to the Grass Roots," speech, Nov. 1963, Detroit (published in Malcolm X Speaks, ch. 1, 1965).

I have always believed that Islam is a way of life based on common-sense. Br. Kaukab Siddique's book The Liberation of Women Through Islam made me aware of the strong leadership roles many Muslim women have held and still hold today in Islam. Most importantly, the Holy Qur'an has helped me understand that Allah does not limit Muslims (male or female) in any way! Our inhibitions and other limitations are based on the prejudices imposed on us by other human beings, some with good intentions as well as bad. I always try to keep Allah in mind in everything that I do.

Aisha Shaheed
New York City
[See Sis. Aisha's article below about a cleverly disguised form of racism.]

---

2. Ms. Murphy Browne: South American sister in Toronto, Canada
Against the War in American Cities: Grassroots Activist and Organizer Opposes Police Brutality and Oppression

Ms. Browne has been active in the Toronto community addressing police brutality, poverty, Eurocentric education, racism, sexism and other oppressions. As a descendant of enslaved Africans she has been very aware of the legacy that affects her community into the twenty first century. Her life is dedicated to advocating for, raising awareness of and supporting her community and other oppressed groups.

---

Come to the conference to meet Ms. Murphy Browne

---

OUR REGRETS: If we have not included some applicants in this conference: try us again next year ..........................
asalamu alaikum

Please forgive us if we are unable to accept you as a speaker or endorser at the August 16 conference. This is an experimental conference to show America's Muslims that an uncompromising conference against war and for peace, based on understanding and awareness, can be organized successfully, inshallah.

The presentations are limited to ONE DAY and are focused on the causes of war and the genuine, honorable ways to peace. We are not trying to collect huge, chaotic crowds involved in peripheral Muslim cultural and nationalistic activities. Those who go to conferences to support the agenda of the White House, the Pentagon, the State Department and all their minions won't be here.

This conference is not based on money and does not cater to the needs of the rich and the powerful. Islam has taught us that change is based on the few who are rightly guided. A huge crowd which does not reject taghoot, which does not oppose the bombing and occupation of Muslim lands, which does not stand against Zionism and International Jewry, may look impressive and noisy but is nothing more than the foam at the top of the waves of oppressive power.

We are looking for the few, like the muhajeroon and ansar in earlier times, the sabiqun al-awwaloon of the Qur'an, a little like the muhsineen the Prophet, pbuh, loved, for whom worldly gains are insignificant as compared to al-Akhira.

Please be patient. Forgive us if you are genuine and we did not include you. If you are a great academic, we will try to include an academic format in 2009, inshallah. This time, please focus on the biggest issue of our era, war and peace, oppression and the end of oppression.

Kaukab Siddique
Ameer of Jamaat al-Muslimeen

---

Community Advertising
MyFavoriteHijabStore.com
where Islamic clothing and accessories are made by hand.

Hijabs, Niqabs, Underscarves, Dresses of all sizes, etc. Free shipping throughout the U.S. and to Canada! The sister who is the owner is skilled with the sewing machine.

---

Jamaat al-Muslimeen [News]
Peaceful but Uncompromising
P.O. Box 10881
Baltimore, MD 21234

Outreach: Giving the Message of Jamaat' Peace Conference to Guyanese Community in New York

July 25, 2008: After Juma' salat, the August 16 Peace Conference literature and invitation was given to 139 people at Masjid al-Abidin in the Jamaica area of New York. More than 90% of the worshippers were from Guyana, South America, with a very few African-Americans and Indo-Pakistanis. The purpose was to inform Muslims that a historic Islamic event is going to take place in Baltimore, inshallah.

The Guyanese community in this area, estimated at 25,000, has been shaken by the U.S. government's claim that two Guyanese were among the three accused of planning to blow up JFK airport. These absurd stories fabricated by the U.S. government are seen by our observers as a means of dividing peaceful Muslim communities and urging them to look for "terrorists" among themselves. The tactic aims at gaining spies and informers from among the Muslims. [Remember the similar situation in Washington when Mahdi Bray and a W. D. group imam, Johari Abdul Malik, promised the FBI that they would physically grab "extremists" and hand them over to the police. We have the pledge made by these two on C-Span.]

The Guyanese were very responsive to the Jamaat al-Muslimeen literature. The khutba too was educational and systematically explained the Isra and Mairaj of the blessed messenger of Allah, pbuh. The worshippers lined up for a community member's janaza salat after the Fard salat.

---

Masjid al-Qur'an wa al-Sunnah is a small masjid in the Jamaica, Queens, New York area, following the Salafi interpretation of Islam. Jamaat reps met the organizers at Maghrib salat and introduced the coming International Islamic Conference in Baltimore. The organizer promised to discuss how to support the conference. Next to the masjid is a high quality Islamic clothing and book store. The owner, South African, was extremely appreciative of the Jamaat's work and immediately put the conference flyer on his bulletin board.

---

Outreach 2: Brooklyn, New York: Second effort to Expose JFK Case and Regime's Attempt to Terrorize Shi'a Muslims

July 25, 2008: After Juma' salat, a flyer exposing the falsehood of the JFK terrorism case was distributed to Shi'a Muslims coming out of the Islamic Guidance Center. The flyer includes an appeal from Sis. Huda Ibraheem, a hijabi daughter of Karim Ibrahim who is standing up to safeguard the rights of Br. Ibraheem, the Trinidadian brother who has been accused by the U.S. government. Young people like Sis. Huda are ensuring that Islam will be a force in America and not subservient.

Most of the people given the flyer by Jamaat al-Muslimeen are Shi'as from India and Pakistan. Later in the day, the flyer exposing the JFK plot story was also given to scores of Trinidadians, mostly non-Muslims, so that they may understand the weakness of the regime's conspiracy theory against Trinidad's Shia community.

Jamaat al-Muslimeen urges all Muslims to condemn the plot by the U.S. government to implicate Br. Ibrahim and 2 other innocent Muslims in fabricated "terrorism" charges.

---

[With thanks to Br. Abu Talib, Brooklyn Jamaat al-Muslimeen.]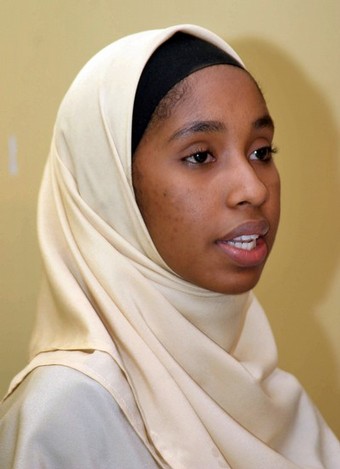 Sis. Huda Ibraheem from Trinidad [photo left] is calling on the Muslim community to unite against the injustice being done to her father Karim Ibrahim.
Why are the Muslims silent? This dear sister is part of the Ummah and is crying out for help.
Stop the railroading of the three falsely accused in the JFK case.

The three Muslims were trapped by a low life informant, Steve Francis Taveras, 36, now publicly known by his background as a twice convicted drug felon working under cooperation deals with U.S. federal authorities.

---

Brownsville, Texas: Why Jamaat al-Muslimeen leader refused to leave town during storm Dolly's 100 mph winds

July 23, 2008: As storm Dolly swept into Brownsville, Texas, right on the Mexican border, Jamaat al-Muslimeen leader Br. Sulayman Solano refused to leave. Why? we asked. His reply: He was taking care of three teenagers in foster care along with his own Mexican family. It would have been very upsetting for the youngsters to leave in 100 degree temperatures, cramped into one old car. He stuck it out, going to the safe area of the house during the worst part of the storm.

By the time the storm ended, there was no electricity in the whole city. The only place which still had electricity was Br. Solano's house! Miracle! So here we have a Muslim who will put others' care above his own. [The teenagers are mixed Black and Latino.]

---

Baltimore: Insightful Presentations on Sierra Leone and Somalia

July 20, 2008: Br. Abu Bakr, an imam of masjid Jamaat al-Muslimeen gave an eyewitness account of his three month stay in Sierra Leone, West Africa. Speaking at a reception to welcome him back, he said that materialism and European influences have spread far and wide in Sierra Leone leading to a general decline in Islamic behavior. The Muslims are the great majority but they are very tolerant of outsiders and as a result Christian missionaries are setting up churches all over the country even where there are no Christians.

Br. Abu Bakr said that while transitioning through Morocco, he felt as if he was in a non-Muslim country. Corruption is spreading in the upper echelons of society.

Sisters in the audience said that Muslim women in West Africa should be given equal participation in the mosques and they should not be put behind partitions. Without women's support, the community is weakened, they said.

Br. Abu Bakr concluded that Muslims in Sierra Leone though weakened by western influences are very receptive to Islam, as could be seen when a very large crowd gathered for Juma' when an Islamic delegation visited from Britain.

Br. Mohammad was the second speaker and he spoke about Somalia. He said that the Ethiopian invasion backed by the USA has created havoc in Somalia. Hundreds of thousands have become homeless. The Somalis are fighting back and the Ethiopian forces are in bad shape. The Somali people support the Islamic courts, the group which brought peace and prosperity to Somali, he added. Islam is very strong among Somalis, as can be seen even among the Somali refugee communities which have settled in Minnesota in the northern area of USA.

He said Ethiopia's dictatorial regime is fearful of the power of Islam because it could encourage the Muslims of Ethiopia to rise up. The Muslims of Ethiopia are the great majority in their country but oppression has made them passive and fearful. Minority rule in Ethiopia has the backing of the USA, he said.

Br. Muhammad, himself from Somalia, also provided insight about Sudan. He said the western oil prospectors were kicked out because they wanted to keep most of the profits from oil. The Chinese who replaced the westerners respect Sudan: they keep only 10% of the profit and do not interfere in the internal affairs of Sudan,

A delicious meal was provided at discount rates by a local Pakistani halal restaurant which supports Masjid Jamaat al-Muslimeen.

---

Charles Carlson: Fighter for truth will be at the August 16 Peace Conference.
Jesus' disciple Challenges pro-Israeli Church: Debunks "Slavery in Sudan" Story

Rod Parsley, Pastor
World Harvest Church
4595 Gender Road
Canal Winchester, OH 43110

Dear Pastor Parsley:

Project Strait Gate will soon hold a "Vigil for Peace with Justice" at your church. It will be a quiet and respectful intervention directed to your attendees. Project Strait Gate challenges apostasy of Judeo-Christian-Zionism, which can be defined as the belief that:

The present day State of Israel is the fulfillment of biblical prophesy (2)

You are a prominent supporter of John Hagee's A Night To Honor Israel. In some respects you go even beyond John Hagee in your openly stated vitriolic condemnation of Islam. You want to bomb Iran, and you are accurately quoted as saying that America was founded in part to destroy Islam.

I quote from our invitation and Press Release Dated July 22, 2008:

Rod Parsley is pastor of the 13,000 member, World Harvest Church that teaches Judeo-Christian-Zionism. Pastor Parsley is one of the prominent supporters of John Hagee's "A Night To Honor Israel" and is Regional Director of Christians United For Israel.

In some respects Parsley goes even beyond Hagee in his openly stated hatred for Islam, which he attaches to activist politics, ignoring Jesus' words of peace and love. He has also defiled the name of our forefathers by publicly stating that America was founded partly for the purpose of destroying Islam.

Parsley has, for years, raised donations to free 29,771 slaves in Sudan by his own claim, supposedly buying them from slave traders and setting them free. But the evidence and first hand testimony since as early as 2002 have overwhelmingly refuted that there is any organized slave trade in Sudan, and reveals that supposed "slave reparations" are largely fund raising photo-ops that benefited armed revolution in Sudan. Parsley has fostered fear and hatred of Islam in the minds and hearts of his followers that include school children, college students, and youth groups under his influence, some of whom are known to have donated money to "free slaves" as late as June, 2008.

Come; help speak out for peace and justice for all men before this big congregation. Some of them will agree with you. Signs and hand-out literature are furnished; examples are:

WHO WOULD JESUS BOMB?
BLESSED ARE THE PEACEMAKERS
NO MORE WARS FOR ISRAEL
IRAQ? WWJD? (what would Jesus do)
CHOOSE LIFE, NOT WAR.
ROD PARSLEY'S RACISM KILLS PALESTINIANS
APOSTATE CHURCH Christ Followers Must Not Kill
THERE ARE NO SLAVES IN SUDAN, ask me

Pastor Parsley, I have noticed you take a very strong "Pro-Life" position. Good! But I prayerfully request that you consider the lives and God-given rights of these precious individuals all over the world who are already born and are on the receiving end of the wars you and others are so willing to support and fan to flame, including Iran and Sudan. I invite you to show me in the New Testament where Jesus would accept the killing of another man's children around the world from us.

Pastor Parsley, we are sorry if you too were taken in about Sudan or war in Iran. If you made a mistake you need too own up to it and repent. Your promotional movie, I'm From Sudan, is about money to free slaves. Money is not from God no matter how often you tell your congregation otherwise. But planting hatred in the minds and hearts of men separates them from Jesus Christ, who said Love your enemies. Jesus leaves no room for race hatred of any tribe.

You can learn more about the purpose of Project Strait Gate on our website. If you search you will also find many articles on Sudan going back to 1997. I hope you will come out and meet me on August 10th.

Toward the Strait Gate, Charles E. Carlson, Director

More about We Hold These Truths http://whtt.org/index.php?id=PhariseeWatch

---

New York Again
The Zionist Media's Hypocrisy in Support of Patriotism: Racism in another Garb: The Becky Hammon Case
by Aisha Shaheed, Jamaat al-Muslimeen Manhattan, New York City

Opening ceremonies for the 2008 Olympics will begin August 8, 2008. For many qualifying athletes, it will be a dream come true after four years of hard work. However, there will be some "controversy" leading up to this event in the Women's basketball world. The controversy surrounds Becky Hammon, a white professional basketball player in the Women's National Basketball Association (WNBA), and her choice to play for the Russian Women's National Team. Russia offered Hammon $2million to become a naturalized citizen and sign up to play. Her only public detractor has been USA Women's Basketball coach Anne Donovan, who called Hammon a "traitor".

The mainstream media immediately ran to Becky Hammon's defense referring to her as a capitalist who is simply taking advantage of an opportunity to realize everyone's dream of playing in the Olympics. The USA Women's Basketball Team told Becky Hammon that her chances of joining their squad were nil even though, she is one of the better shooters in the WNBA. Many of her fellow players voiced support for Hammon and her right to pursue her Olympic dream. WHAT??!! Let's flashback....

In 1996, Muslim-convert and former NBA player, Mahmoud 'Abdul Rauf, drew national attention to himself by refusing to stand when the national anthem was being sung. He referred to the American flag as a symbol of oppression. 'Abdul Rauf was vilified by the media and received racist death threats for his stance. The NBA even suspended him without pay as punishment for exercising his religious beliefs. Very few NBA players openly supported him. He was reinstated only when he decided to stand during the national anthem but, was booed by fans because he chose to recite the Al-Fatiha while the national anthem was being sung. His teammates created a circle of protection around him as he made his du'a.

Muhammad Ali is another Muslim athlete whose livelihood was taken from him for a time as punishment for following his religious convictions by refusing to fight in the Vietnam War. In each instance, the media referred to them as unpatriotic and questioned how black men enjoying vast American wealth would dare critique America in anyway. Many people don't understand that Black success comes in spite of America, not because of it. If critiquing America is considered so unpatriotic then, how patriotic is it for an athlete to take money to become a citizen of another country and compete against her own during an Olympic tournament? Do you understand the blatant hypocrisy of the American media?

Becky Hammon, a white female from North Dakota, was never in any danger of experiencing this type of backlash. As a matter of fact, she claims that she's received more support than not. Just like my mother always says, "If you're white, you'll be all right". There was a time when American athletes, who did not make the Olympic squad, had to deal with the disappointment. Now, Becky Hammon is setting a precedent where an athlete's citizenship can be bought and paid for by other countries. We'll see how open-minded the American media are if and when an athlete of African-descent does the same thing...

---

Pakistan: Three Islamic Perspectives
Islamic Woman Leader Starts School Classes on Ruins of Islamic University Jamia Hafsa

July 25, 2008. Sis. Umm Hasan formally inaugurated Islamic school classes in tents erected on the ruins of Jamia Hafsa, the famous Islamic women's seminary demolished by General Musharraf's commandos. Earlier at Juma' prayers in the Red Mosque, now back in the control of the Muslim masses, Qari Saeedur Rahman, leader of the Ulema Action Commitee, urged the people to support the re-inauguration of Jamia Hafsa. He demanded that the government release the surviving leader of the Red Mosque, Maulana Abdul Aziz and re-open Jamia Faridia [premier medressa which supported the Red Mosque].

During his khutba in the Red Mosque, Maulana Abdul Ghaffar became emotional when recounting the terrible crimes committed by Musharraf's troops against young women. He said that unless the criminals are arrested and prosecuted, the people will take revenge.

[New Trend readers should note that 27 charges brought by Musharraf's regime against Maulana Abdul Aziz and Jamia-Hafsa-Red Mosque have been found to be bogus by a local court and dropped. All those stories distributed by Musharraf's men that the women of Jamia Hafsa burned video stores and threw bleach on the faces of westernized women were FAKE. Even BBC distributed these stories! Now only one charge remains: the occupation of the children's library.]

---

Pakistanis Facing Serious Internal Corruption and Hypocrisy: Faith is Eroded by Inaction: Hafiz Saeed's Juma Khutba

July 25: Addressing a huge Friday prayer gathering in central Lahore, Jamat ad-Da'wa leader Hafiz Saeed expounded for one hour on the corruption and hypocrisy which pervades Pakistani society. Faith, he said, is proven by good deeds, otherwise it is static and gradually fades away. Faith is the name o f obedience to Allah as seen in good deeds. If the good deeds are not done, faith gradually erodes and hypocrisy takes its place. The Hadith of the Prophet, pbuh, say that a person is not a Muslim when he:
Commits adultery
Steals and takes what belongs to others
drinks liquor and other intoxicants
He has to regain his faith by carrying out sincere repentance, with weeping and heartfelt anguish.
We do not have the concept of anyone being ma'soom and insulated against the temptations of the world. We must constantly seek Allah's forgiveness.

Associating others with Allah puts one into the ranks of unbelievers.

Our maulvies teach incorrect doctrine. They assure people that if they are Muslims, the faith will always remain intact. The Prophet, pbuh, has told us the opposite; that faith increases and decreases. If we do not pray regularly, we will gradually become nothing but nominal Muslims with no real faith.

Similarly, if we do nothing for the Islamic cause, gradually nifaq or HYPOCRISY takes over. Even one who prays can become lackadaisical in prayer, praying 'Asr just before maghrib, or not getting up for fajr. Striving and struggling in Jihad keeps the faith alive and makes it stronger. The signs of hypocrisy have been specified in Hadith and these are prevalent in many segments of Pakistani society.

Millions in Pakistan do not pray the five prayers and yet consider themselves Muslims, though the Prophet, pbuh, denies the validity of their faith other than for legal purposes.
We have people spending millions on luxury housing, holding hugely expensive wedding ceremonies, yet skimping and saving when it comes to spending in Allah's way.
Wishing and wanting will not do. We must DO what Allah commands. Even some of the finest sahaba
[Companions] of the Prophet, pbuh, were boycotted by the entire community when they did not accompany him on a journey for jihad.

[Hafiz Saeed strongly condemned Prime Minister Gilani's imminent trip to Washington. Appeasement of the oppressors, he said, is foolish and dangerous for the country.]

---

Addressing Very Large Prayer Gathering, JI Leader Claims USA is a Terrorist State: Notes Indian Infiltation of Pakistan: PPP Regime's Luxury and Bushite Visit

LAHORE, Jul 25: Jamaat-e-Islami secretary general Syed Munawar Hasan has said that America is the biggest terrorist state in the world whose thousands of nuclear and chemical weapons are in the hands of fanatics and being continuously used against the humanity.

He was delivering Friday sermon at Mansoorah, says a press release by JI Media Cell. Munawar Hasan wondered why a hue and cry about Pakistan's nuclear program is being raised in the world, whereas the real threat to the world security and peace is the USA. He said thousands of American nuclear, chemical and biological weapons are in the control of unsafe hands, and America is the only country which used nuclear bombs against the innocent civilians killing millions of Japanese by dropping nuclear bombs on Hiroshima and Nagasaki. He said still there are children being born in those cities suffer from the deadly affects of those bombs dropped fifty years ago.

Munawar said America has always worked against humanity in every turn of history. He said despite that UN had banned chemical weapons but America is using them committing genocide of innocent Muslims in Afghanistan and Iraq.

Munawar said Pakistani rulers are acting as slaves of Washington and the only country created in the name of Islam is being used against Muslims of the world. He said now our newly elected prime minister is going to Washington to renew his loyalties and submissiveness to George Bush, and a large delegation of sightseers accompanying him will enjoy luxuries of seven star hotels at the expense of hard earned money of a nation deprived of Roti, Kapra Aur Makan. [bread, clothing and housing].

Munawar said our Foreign Minister is acting as a Yes man of Washington, while our Trade Minister has launched Indian Trade Policy in Pakistan. He remarked that India is a lucky nation having her own trade minister in Pakistan to take care of her commercial interests in a supposedly hostile country. He, however, said Pakistan is an unlucky nation whose ministers watch American and Indian interests despite enjoying perks, privileges and protocol at the expense of public taxes.

Munawar said it is height of cruelty that those raising slogans of Roti, Kapra Aur Makan have snatched every grain from the mouth of the poor masses, and every section of society is either on strike or staging protests against the so-called 'Awami' rulers.

He said JI has launched its mass contact movement and its annual convention in October in Lahore will bring a new hope for change in the country.

---

What the U.S. Media are hiding. [With thanks to Br. Husayn al-Kurdi, California.]
IRAQ: Saddam's Right Hand: Ibrahim al-Douri Challenges American Military Occupation and Calls for Victory

Among the most astounding facts which came out in July 2008 is the successful resistance mounted by Al-Qaida-in-Iraq in the Mosul area and in Diyala province as well as in Baghdad itself. An American general conceded that the gains the U.S. has made could easily be "reversed."

However, the most astounding fact is that the right hand commander of the martyred Iraqi President has emerged as a key leader of the resistance. On July 19, 2008 he issued a resounding and extensive command to the resistance calling for the continuation of disciplined and organized combat against the occupation. He claimed that the U.S. is concealing and downplaying the extent of its losses in Iraq. Here is an excerpt from al-Douri's call [sounds almost like the Lion of Iraq Saddam Hussain] which brings out the motivational aspect of the resistance:

"Mujahedeen!
Thus the great evil wave was broken to pieces on most cherished Baghdad's ramparts, on the doorsteps of the Eastern gate of the Nation, on the immaculate and sacred land of Iraq, the land of prophecies, the land of messengers, Seth, Noah, Idris, Abraham, Jonah and Job, may the Lord's blessings be upon all of them. Iraq is the land of Imams and the righteous, of the kindhearted men and women, of the Imams of the law makers, religious orders and truths. This land gave us The Lion of the Nation and its outstanding hero, Haidar Ali, the tireless combatant, may the Lord have pity on him and bless his face. This Nation gave birth to the greatest martyr Al Hussein, the inspirer of the Nation to remain resolute, heroic and ready to give sacrifices until the day of Resurrection. May the Lord bless him. Also from the Nation sprout Al Zubayr Ibn al Awwam and Talha Al Khayr and those who followed them from amongst the saint companions, and their God fearing disciples. Lo! Our land was perfumed with the blood of these great men, hugging against her bosom their pure, scented and honorable remains. Debased and defeated were the invasion and the occupation forces under their feet.

That is how the people of the great Iraq led by its believing revolutionary vanguards records a new glorious history for the Nation and for humanity, asserting its existence and renewing its role as the brain of the Arabs and the treasure of the faith.

Knights of the Jihad! Trust unto the Lord! Ye heroes of the greatest battle! Be absolutely certain that he who trusts in God, God will satisfy him and tend for him. Does the Lord forget his servant? Isn't the Lord almighty? Praised be His name! He promised from everlasting eternity to back His servant believers, and He uttered in His righteous word: " To give triumph to the believers is Justice." and He also said: "The Lord defends those who believe, the Lord dislikes traitors and unbelievers! He defends those who believe in Him and those who believe in the Jihad as the path to elevate His word and for the triumph of His religion and to convey His message. He loves them and they love Him. He is satisfied with them, and they are satisfied with Him. He loathes traitors, hypocrites and renegades. He will not have mercy on them on the day of Judgment, neither will He absolve them. For their dwelling place will be Gehanna for ever and ever..."



2008-07-28 Mon 18:39:55 cdt
NewTrendMag.org