NewTrendMag.org News # 1208

[ Click on NEWS for back issues ][ OUR BOOKS ]



Rabi' al-Awwal 8,1429/ March 16, 2008, #17

---

Dr. Anwarul Haque [Islamabad, Pakistan] deserves our thanks for timely reminders of the anniversary of the murder of Rachel Corrie by the Israelis. In memory of this great American woman, we have an unusual presentation. [Please scroll all the way down.]

---

Just Published
Groundbreaking Book Offers a way to Peace between Jews and Muslims

Jews for Salaam: The Straight Path to Global Peace by Imam Warith Deen Umar

You can order a copy of Jews for Salaam at this online bookstore: www.Xlibris.com
ISBN13 (TP) : 978-1-4257-8754-7
ISBN13 (HB) : 978-1-4257-8755-4

---

Jamaat al-Muslimeen News [4 items], P.O. Box 10881, Baltimore, MD 21234

Prof. Sami' al-Arian's Health Deteriorating: U.S. Refuses to Release him although Charges did not Stick

Butner, North Carolina: March 15: Prof. al-Arian is protesting the U.S. government's ongoing attempts to force him into a grand jury hearing. He is on a hunger strike which has led to dehydration and serious deterioration of his health. He had accepted deportation but the regime continues to hold him. [Several protests are projected for today to highlight his condition.]

---

Dr. Omar 'Abdel Rahman [blind Shaikh] Wins Access to Short wave Radio After Hunger Strike

Butner, North Carolina: March 15: Egypt's top Islamic scholar, Shaikh Omar 'Abdel Rahman, is also a prisoner in Butner's hospital prison. The authorities have failed to destroy his Islamic faith and fervor although his suffering has been beyond reason. The month before last month he went on hunger strike to demand access to his shortwave Arabic channels radio which had been confiscated a year back. Fearful that the great scholar's death could create upheaval in Egypt, the authorities gave him the radio back.

We delayed this news for a month so that the long suffering Shaikh who is an authority on the Qur'an should be able to enjoy Arabic radio programming at least for some time.

---

Muslim Youth Launch Lively Rally, Wave Banners for Gaza in Downtown Greensboro

March 14, 2008: Scores of Muslim children and youths rallied in downtown Greensboro, North Carolina, to highlight the Israeli atrocities in Gaza [Palestine]. The young people have become the pride of the local community and managed the entire rally almost without adult help. The youths chanted slogans against the Israeli murders of the people of Gaza [including children and babies].

The flags of Palestine, with masjid al-Aqsa embossed on them, made for an impressive sight, especially after the children started marching up and down the street and chanting slogans. A few non-Muslim friends and anti-war activists joined the protestors.

Imam Badi Ali and Dr. Kaukab Siddique [National Shoora member and Ameer respectively of the Jamaat] were present at the rally to encourage the youth.

---

Some very nice pictures of the rally taken by Br. Aziz will be on New Trend's web site in a couple of days, inshallah.

---

Outreach in North Carolina: Khutba Condemns Israeli Atrocities in Gaza: Calls on Muslims to Honor Women: Islam Demands Modesty in Males

The Islamic Center of the Triad [ITC] in Greensboro has been steadily developing under the leadership of Imam Badi Ali and his team. Owing to the growing population of Muslims, particularly from Sudan, Palestine, Iraq, Saudi Arabia and India, two juma' gatherings are held.

On March 14, the two juma' gatherings, about 500 people, had Dr. Kaukab Siddique as Khateeb. He had come down from Maryland on special invitation. Here are the main points of his khutbas:

Text : "And obey Allah and the messenger that you may obtain mercy." [The Qur'an 3:132.]

Text 2: "Modesty [al-Haya] is part of Faith [Iman] [Hadith, Sahih Bukhari, kitabul Aadab.]
The Qur'an is a book of Guidance for those who fear Allah, who are conscious of Allah and who are aware [muttaqeen].
We must be aware of the world we live in. Religion is not separate from the issues facing the world we live in.
Whatever happens to one Muslim happens to all of us. This is ONE UMMAH. The 56 Muslim nationalities are good for identity and autonomy but must be subservient to the overall good of the UMMAH.
Our community is standing up for Gaza. What the yahood are doing to Gaza violates humanity. Similarly the bombing of Somalia is against all of us.
We must HONOR women. We are obliged to do so by Islam. Islam puts the mother second only to Allah. The Prophet, pbuh, said that the best among you is the one who is best to his wife. We must honor our daughters as the Prophet, pbuh, honored Fatimat-uz-Zahra, r.a. We must honor sisters, aunts, grandmothers, ALL women.
It is wrong of Muslim men to be talking freely to non-Muslim women, to be chatting, flirting with them, disrespecting them.
The Hadith about Haya [modesty] is narrated by men. In all three narrations, the primary narrator is a male, Abdullah ibn Umar, Salim, r.a., and Abu Huraira, r.a., and all three are narrating to men.
Thus modesty is the primary necessity, first, of Muslim men. The most modest of the Prophet's companions was a male, Usman ibn Affan, r.a. The Prophet [pbuh] himself was as brave as a lion on the battlefield but as shy as a virgin maiden at home. The Qur'an begins by commanding MEN to lower their gazes before commanding women to do so.
Among those embracing Islam in America, women are the greatest in numbers. If we men become more modest in behavior, more women will embrace Islam.
Look at Afghanistan: The Islamic forces there are resisting NATO because Afghan women tell their sons to go and fight the occupiers.
Muslim unity must begin with the unity of Islamic men and women worshipping Allah and standing up to taghoot.
---

Dr. Siddique's khutba is available on CD for $10 donation from: New Trend, P.O. Box 356, Kingsville, MD 21087
---

Our America: Is this a great Country or What? [From our Media Monitor]
Eliot Spitzer: Seeming Reformer Turned out to be the Biggest Hypocrite and Exploiter of Women

March 10-13, 2008: From Albany, the smug capital of New York state, comes the biggest scandal of them all. The governor of New York state, Eliot Spitzer, made a reputation for himself as a fighter against corruption. Interestingly, he went after prostitution rings and related crime with an intensity which have made the mutawas of Saudi Arabia proud. On the quiet, he was himself sexually using prostitutes, probably the most expensive call girls in America. He was "client number 9" in the business books of a prostitution den known as "Emperors' Club."

Spitzer, now it turns out, "used" a 22-year old prostitute named Alexandra Dupree at the rate of $4500 per hour. The media estimate that he spent $80,000 on his sexual exploits in the last 6 months.

THE WORST PART of IT: According to news reports, the story came out because the authorities traced the flow of money from the official governmental account to that of the prostution den's front. In other words, Spitzer would have never confessed if he had not been caught in illegal activity. He confessed [in a very clever, vague way] apparently to avoid being caught flat out. He wanted grounds to be able to "plea bargain." Thus his "I apologize" speech rings hollow and sounded fake. Look at the face of that poor degraded wife of Spitzer forced to stand by him, her face lined and haggard, while he proclaimed his disgraceful behavior in a bold tone full of arrogance.

The dirty drama indicates what the Governor thinks of women: The expensive prostitute was a "toy" which he had to "possess." He thus treated four other women, his wife and three teenage daughters like dirt.

---

What the media did not tell you: Spitzer is a Very Rich, Highly Educated, Ruthless Jew

The most obvious fact about Spitzer is that he is Jewish. Every news channel in America talked about the scandal but not one had the courage to say that he is Jewish. One can be Jewish without being religious. It is a morally bankrupt ideology. Other rich, highly placed Zionist Jews, like Senator Schumer, claim Spitzer as a close, long time friend. [CNN 3.11.] The entire Zionist machine in New York was supporting Spitzer. It is impossible that none of these "big shots" who run America's power structure do not know of the "Emperor's Club" and the expensive call girls.

Here is the basic info about Spitzer from Wikipedia: [Note the HIGH levels of education.]

"Spitzer was born in the Bronx to Austrian Jewish parents, and raised in the affluent Riverdale section of The Bronx in New York City. His family was not particularly religious and Spitzer did not have a bar mitzvah. He is a graduate of Horace Mann School. With a score of 1590 on the SAT exam, Spitzer attended Princeton University and majored in the Woodrow Wilson School of Public and International Affairs. At Princeton, he was elected chairman of the undergraduate student government, and graduated in 1981. He scored a perfect score on the LSAT, and went on to Harvard Law School, where he met and married Silda Wall. They married on October 17, 1987 and together they have three daughters: Elyssa (b. December 12, 1989), Sarabeth (b. July 23, 1992), and Jenna (b. May 23, 1994). Spitzer was an editor of the Harvard Law Review. One of Spitzer's classmates at Harvard Law School was Jim Cramer, host of CNBC's Mad Money, on which Spitzer has appeared or called in on three occasions.
Upon receiving his Juris Doctor (J.D.) degree, Spitzer clerked for Judge Robert W. Sweet in Manhattan, then joined the law firm of Paul, Weiss, Rifkind, Wharton & Garrison. He stayed there for less than two years before leaving to join the Manhattan district attorney's office."
[In plain words, the best education does not increase a person's piety and goodness.]

---

MEDRESSAS and AMERICAN UNIVERSITIES

America has been complaining to Muslim countries that Islamic schools, known as medressas, should either be closed down or their curriculum should be revised. Why? because some students are seen as terrorists by the U.S. [though no evidence of such allegations has come forth.]
Now let us look at American universities. The year before last University of Pennsylvania saw a terrible murder of a woman by her husband who was a professor at the university. He is an Israeli Jew. It was a murder cynical beyond measure, committed while the wife was writing Christmas cards
Now we have a Princeton University graduate connected to Harvard Law School committing these anti-woman crimes and using his power and position to do so. It is time that at least some American universities should be closed down. At the very least, their curricula and culture should be examined and revised. Exploitation and destruction of the lives of women are no ordinary crimes but affect entire families and communities.

---

List Released of Germans who Died in Postwar Sachsenhausen Camp
The Associated Press
http://www.iht.com/articles/ap/2008/03/06/news/Germany-Soviet-Camp.php

Researchers at the former Nazi Sachsenhausen concentration camp have finished compiling a list of nearly 12,000 Germans who died there during its use as an internment camp by the Soviets after World War II ... Soviet secret police used the camp just north of Berlin to imprison many Nazis as well as critics of the Soviet occupation of eastern Germany after the defeat of Adolf Hitler's regime. In all, an estimated 60,000 people were sent to "Special Camp No. 1" in 1945-50.

---

Pakistan
Attacks on Pakistani Special Forces in Lahore [Analysis by our Pakistan Monitor]

March 11, 2008: Martyrdom operators struck General Musharraf's security units in the historic city of Lahore. The first attack struck the 7-storey building of the FIA and demolished almost all of it. FIA police mostly deals with immigration and internal country matters but the mujahideen who attacked seemed to know that a Pakistani cell of special security forces trained by the U.S. was located in the building. It was apparently wiped out.

Almost the entire building, quite a large structure was demolished. The explosion was powerful and was heard for miles. People panicked and ran for their lives. By March 13, Pakistan reported 31 killed and 164 wounded in the mujahideen attack.

The second attack was in an advertising company. It didn't seem to make sense but late reports indicate that it was the cell of another special forces unit. At least 4 were killed here.

Pakistani intelligence units went into action all over Punjab and arrested at least 75 people, most of them devout Muslims, including an imam and a qari. Thus the regimes own disinformation that India is behind the martyrdom operations has come to nothing. Observers say that fighters from Islamic populations in Waziristan which have suffered heavily at the hands of the Pakistani military led first by Musharraf and now by General Kayani are taking the war to major Pakistani cities where Pakistani security forces have their bases.

Islamic political parties are in a difficult position because they have been advocating democracy and peaceful change and failed miserably to stop the war against the Islamic populations of the Frontier province.

---

Killing of civilians condemned

[Courtesy Daily Dawn, Karachi]

KHAR, March 13: Thousands of people demonstrated here on Thursday in protest against the killing of civilians in a clash between Bajaur Scouts and militants.

On a call given by the Jamaat-i-Islami, tribesmen from different villages in the Bajaur agency took out a procession.

They were carrying black flags, banners and placards and raising slogans against the United States and President Pervez Musharraf.

About eight people, three of them from the same family, were killed when Nawagai Bazaar and adjoining localities were shelled on March 11.

Former MNA Sahibzada Haroonur Rashid, JI Bajaur Amir Sardar Khan, Malak Mohammad Aziz Khan and Maulana Wahid Gul addressed the protesters.

They condemned the killing and attack on civilians and accused the government of targeting religious-minded people in Fata. They warned that it would further aggravate the already volatile situation.

---

In Memoriam: A Great American Woman
Rachel Corrie : Killed in Cold Blood by Israeli Military Bulldozer: Eyewitness Accounts vs Israeli Story

On 16 March 2003 in Rafah, occupied Gaza, 23-year-old American peace activist Rachel Corrie from Olympia, Washington, was murdered by an Israeli bulldozer driver. Rachel was in Gaza opposing the bulldozing of a Palestinian home as a volunteer with the International Solidarity Movement.

Rachel and seven other ISM activists were in the Hi Es Salam area of Rafah, Gaza, trying to prevent the razing of Palestinian land and property. Present were two Israeli occupation army bulldozers and a tank. For a period of two hours, the activists played 'cat and mouse', attempting to prevent the illegal demolitions by physically blocking the passage of the two bulldozers.

An e-mailed report from the Palestine Monitor stated:

"Rachel Corey [sic], 23 years old from the state of Washington, was killed while she was trying to prevent Israeli army bulldozers from destroying a Palestinian home. Other foreigners who were with her said the driver of the bulldozer was aware that Rachel was there, and continued to destroy the house. Initially he dropped sand and other heavy debris on her, then the bulldozer pushed her to the ground where it proceeded to drive over her, fracturing both of her arms, legs and skull. She was transferred to hospital, where she later died. Another foreigner was also injured in the attack and has been hospitalized - at this stage his nationality is unknown." (15 March 2003)

A press release from the International Solidarity Movement stated that:

"Rachel had been staying in Palestinian homes threatened with illegal demolition, and today Rachel was standing with other non-violent international activists in front of a home scheduled for illegal demolition. According to witnesses, Rachel was run over twice by the Israeli military bulldozer in its process of demolishing the Palestinian home. Witnesses say that Rachel was clearly visible to the bulldozer driver, and was doing nothing to provoke an attack." (15 March 2003)

The photos below clearly show that Rachel was well marked, had a megaphone which removes any doubt that the activists' presence was somehow invisible to the driver, and she clearly posed no threat to the bulldozer driver.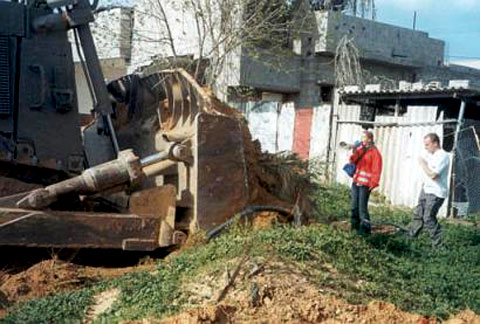 Picture taken between 3:00-4:00PM, 16 March 2003, Rafah, Occupied Gaza. Rachel Corrie (L) and Nick (R) oppose the potential destruction of this home (to the west of the Doctor's home where Rachel was killed). In the instance pictured, the bulldozer did not stop and Rachel was pinned between the scooped earth and the fence behind her. On this occasion, the driver stopped before seriously injuring her. Photo by Joseph Smith (ISM Handout).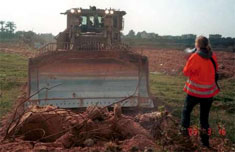 Picture taken between 3:00-4:00PM on 16 March 2003, Rafah, Occupied Gaza. A clearly marked Rachel Corrie, holding a megaphone, confronts the driver of one of two Israeli bulldozers in the area that were attempting to demolish a Palestinian homes. She was confronting the bulldozer in order to disrupt its work, and prevent it from threatening any homes. Photo by Joseph Smith. (ISM Handout)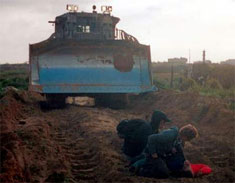 Picture taken at 4:45PM on 16 March 2003, Rafah, Occupied Gaza. Other peace activists tend to Rachel after she was fatally injured by the driver of the Israeli bulldozer (in background). This photo was taken seconds after the bulldozer driver dragged his blade over her for the second time while reversingback over her body. He lifted the blade as seen in the photo only after he had dragged it back over Rachel's body. This image clearly shows that had he lifted his blade at any time he may have avoided killing her, as the bottom section of the bulldozer is raised off the ground. Photo by Richard Purssell. (ISM Handout)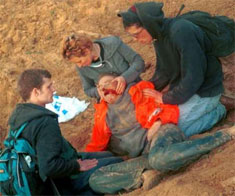 Picture taken at 4:47PM on 16 March 2003, Rafah, Occupied Gaza. Rachel Corrie lies on the ground fatally injured by the Israeli bulldozer driver. Rachel's fellow activists have dug her a little out of the sand and are trying to keep her neck straight due to spinal injury. Photo by Joseph Smith. (ISM Handout)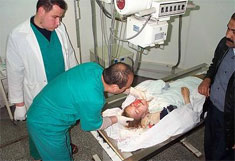 Rachel in Najjar hostpital, Rafah, Occupied Gaza. Rachel arrived in the emergency room at 5:05PM and doctors scrambled to save her. By 5:20PM, she was gone. Ha'aretz newspaper reported that Dr. Ali Musa, a doctor at Al-Najjar, stated that the cause of death was "skull and chest fractures". (Mohammad Al-Moghair)

A later report from ISM Media Coordinator Michael Shaik in Beit Sahour offered more details about the events:

"The confrontation between the ISM and the Israeli Army had been under way for two hours when Rachel was run over. Rachel and the other activists had clearly identified themselves as unarmed international peace activists throughout the confrontation.

The Israeli Army are attempting to dishonour her memory by claiming that Rachel was killed accidentally when she ran in front of the bulldozer. Eye-witnesses to the murder insist that this is totally untrue. Rachel was sitting in the path of the bulldozer as it advanced towards her. When the bulldozer refused to stop or turn aside she climbed up onto the mound of dirt and rubble being gathered in front of it wearing a fluorescent jacket to look directly at the driver who kept on advancing. The bulldozer continued to advance so that she was pulled under the pile of dirt and rubble. After she had disappeared from view the driver kept advancing until the bulldozer was completely on top of her. The driver did not lift the bulldozer blade and so she was crushed beneath it. Then the driver backed off and the seven other ISM activists taking part in the action rushed to dig out her body. An ambulance rushed her to A-Najar hospital where she died."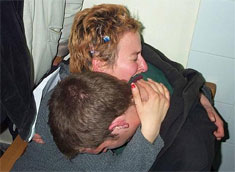 Colleagues of Rachel comfort each other in Najjar hostpital, Rafah, Occupied Gaza. Ha'aretz newspaper reported that a second activist was also injured at the same location. (Mohammad Al-Moghair)




2008-03-16 Sun 09:06:51 cst
NewTrendMag.org